A Thousand Miles by Bridget Morrissey: At twenty-eight Dee Mathews is a straight shooting no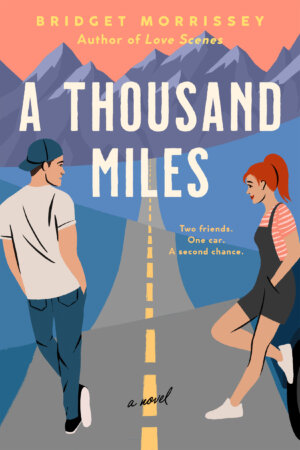 nonsense kind of girl, running her own podcast with the help of her friend Javi, where they share their truths and struggles in the hopes that it can help their listeners over come their own problems.
In all these years nothing has been off the table for Dee, well nothing except for one person 'Mr Name Redacted' aka her high school best friend and first love Ben Potter. But after having not spoken to each other in years Dee is a little shocked to find Ben knocking on her door as if nothing has happened to ask if she is still game to do their road trip from Illinois to Colorado to dig up the time capsule that they buried in his grandmothers yard during their senior year spring break.
Caught between not wanting to break the promise that they made all those years ago and desperately wanting to get to the bottom of their rift Dee agrees to join Ben on the road trip, could these two old friends find some solace while digging up the past?
I have to say I really enjoyed this book more than I had expected, the entire second chance love story meets road trip meets friends to lovers trope just worked perfectly in Dee and Bens story. The thing that worked for me in this book was that we got to see the entire story unfold as these two rebuild their friendship as they travel to Colorado, it was as if as they covered each mile they grew closer and closer.
I will say this book is packed with some dramatic secretes being uncovered, in a large way I found this book to be one of personal growth with a bit of romance thrown in to the mix. I will say Ben's character really got to me, this poor guy has had his entire world turned upside down, without giving to much away I will say that once a long kept secret is uncovered Ben finds himself questioning his entire identity. I liked that we got to see Ben deal with his grief and insecurities as the story progressed and that having Dee with him helped give him the strength to deal with all this upheaval.
Now for Dee, well I was on the fence for her character for the large part of this book, there were times that I just couldn't stand her character but at the same time there were things about her that I liked.  I liked her outspoken nature to a large extent but this also kind of made her a bit obnoxious. I have to say I really liked the entire podcast idea and that they were sprinkled throughout the book.
The thing that I really enjoyed about this book was getting to see Dee and Ben grow and mature as the story progressed. We got to see these two character not only come into their own, work through past issues and evolve but also realise their feeling for each other. It also didn't hurt that they had such great chemistry.
A Thousand Miles was definitely more than I had expected, this second chance romance will warm your heart and have you tearing up in a few parts. I would definitely recommend joining Dee and Ben on this journey to reconnection.
Book Info:

Publication: June 21, 2022 | Berkley Books |
Dee Matthews is the cohost of the smash-hit podcast Did I Forget To Tell You?, where she interviews family, friends, and past lovers. Nothing is off limits, except for one man (known on the show only as Name Redacted) who happens to be her high school best friend Ben. During their senior year spring break, Dee and Ben took a road trip to visit Ben's grandma. They buried a time capsule in her backyard, pledging to return in ten years to open it. Then their friendship fell apart in spectacular fashion. They haven't spoken to each other since.
Ben Porter's life since that moment has been unexciting but comfortable, until his grandma reveals a family secret that flips his whole world upside down. Her dying wish is for him to stop doing what is safest and go after what he really wants. He starts by showing up on Dee's doorstep with every intention of fulfilling their long-ago promise. Despite her reservations, Dee can't say no. This trip could be her chance to give her listeners the Name Redacted interview they've been begging for–and finally put her unresolved feelings for Ben to rest.
As the miles fly by, Dee and Ben's friendship reignites. But the closer they get to reaching their destination, the more apparent it becomes that their attraction to each other cannot be ignored. Their last adventure ended in disaster, and they're about to find out if any hope of a future together is in the rear view mirror.