The "What If" Guy by Brooke Moss:  Artist Autumn Cole fled from her home town of Fairfield, Washington two months after she graduated high school. She couldn't wait to leave the small town for the big city of Seattle. Her mother deserted her and her father when she was young and her father never got over it. He evolved into an embarrassing drunk and consequently, Autumn was teased and mocked while growing up. She also got stuck taking care of him. Seattle offered Autumn the anonymity she craved and the art school she needed for her future. She had no intentions of ever returning to Fairfield, so she left everyone and everything behind.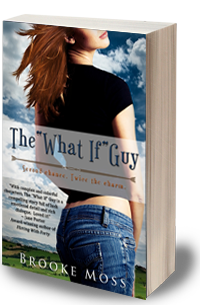 Autumn got pregnant in college during a three week fling with a bartender. She dated and instantly fell in with another artist, Henry Tobler, before she knew she was pregnant. She loved Henry too much to saddle him with her problems, so she broke up with him and raised her son on her own. Henry was devastated. Autumn never loved anyone the way she loved Henry and Henry never loved anyone the way he loved Autumn. They were soul-mates. Autumn never gave Henry a chance to talk about his needs, wants or desires. She never knew how he felt about her pregnancy. However, their love was so strong, they thought about each other each and everyday, knowing that their chance of happiness was over.
Autumn returns home thirteen years later with her son Elliot because her father is dieing and needs her help. Autumn never kept in touch with her friends while she was living in Seattle, so her homecoming was uneventful. Her father's misery mimics her own. Living in Fairfield is only temporary, Autumn plans on moving back to Seattle in the near future.
So the city dwellers move to the sticks and the small town gossips now have brand new material. Elliot is not very happy and neither is Autumn. She is not very close to her father and she does not look forward to seeing and living with him again. All the bad memories reappear as if she never left. Adjusting to rural life is very difficult for Elliot, some of his school mates mock and tease him.
Autumn sees Henry for the first time in many years at Elliot's school. He is Elliot's social studies teacher. Upon their initial meeting, Autumn is beside herself and inadvertently creates a spectacle. However, overtime, she and Henry begin to talk and share a few kisses. Overtime, Autumn's father begins taking his medication regularly, feels slightly better and becomes a better father and grandfather. Autumn's best friend Holly forgives her and welcomes her home. Autumn finally feels accepted into the community.
In addition to working at the local pharmacy, Autumn's mural work is getting some recognition and she is beginning to make a living doing the art she loves. Everyone is happy, but it doesn't last.
Autumn's father passes-on, her estranged mother appears at the funeral and Henry's soon to be ex-wife shows up. Way to much for Autumn to handle. Once again, without giving Henry the time of day, she breaks up with him. He returns with his ex-wife to California to finally settle their divorce. Autumn and Elliott are miserable without Henry, their lives are incomplete. Luckily Autumn has friends she can turn to and count on.
The "What If" Guy by Brooke Moss is a wonderfully written, emotional, contemporary romance. The characters are well defined and the quick-paced plot flows effortlessly from beginning to end. This is the first book I have read by Brooke Moss and it certainly won't be the last. This book has a wonderful and engaging ending. A definite must read!
Book Info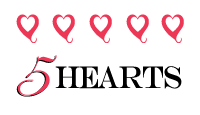 Publisher: Entangled Publishing, LLC (July 13, 2011)
After losing her job at a swanky Seattle art gallery and finding out her father has been hospitalized, single mother Autumn Cole reluctantly returns to her tiny hometown of Fairfield, Washington to put the pieces of her life back together.
Her disgruntled twelve-year old son isn't thrilled about going from hip to hick, but Autumn's got it worse. She resumes her role as the daughter of the town drunk, promptly facing a crisis with her father that's been decades in the making.
Running into Henry Tobler, and nearly breaking his nose, is almost more than she can handle, but can rediscovering love–and herself–with her "what if" guy teach Autumn to forgive before it's too late?