The Goddess by Robyn Grady is a modern day fairy tale!
Helen has always loved exploring and seeking new adventures. This love of adventure and new experiences is how she ends up working on a secluded tropical island. She was there alone, getting the place spruced up for the arrival of Prince Darius of Teirenias, until a handsome stranger shows up and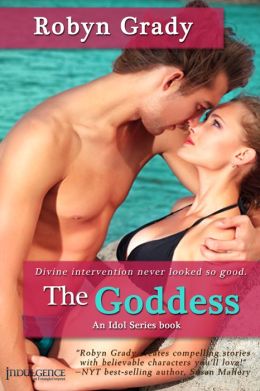 she accidentally spills paint on him! As soon as she sees this stranger, her body is humming…
"…close up, he was devastatingly…everything about his confident expression sent her blood presure soaring and her thoughts dipping into all kinds of interesting places. She'd heard about animal magnetism – the power some people had to hypnotize and draw in their prey. This man smoldered with it."
Imagine Helen's surprise when the handsome stranger is actually the Prince himself! He is supposed to be spending a week in solitude on the island, meditating and preparing for his coronation. When he meets Helen, he is both intrigued and amused. She is also not royal and he should not be spending any time thinking about her…but he can't help himself.
As if intended all along, Helen stays with Prince Darius for his week…first as his housekeeper, but before long that leads to much, much more! Together they explore the island, talk about The Goddess (a fertility statue of which the Prince is the keeper of) – her legend, and the meaning and importance of her to the royal line…and they play – both outside and in! They fit perfectly together and the love scenes are intense! Helen is respectful of the traditions Darius must follow and she is fascinated by the mystery and intrigue surrounding the Goddess. Darius comes to care deeply for Helen, who also helps him to see life in a different light.
But what happens on a secluded island does not always stay on a secluded island and between circumstance and a desire to spend more time together, Helen goes home with Prince Darius to his palace. They agree she will stay as a personal guest for 2 weeks…could it lead to more?
Helen is enchanted with the palace, the Prince, his sister, the place, the history and the people. Mystery and intrigue surround the royal's past generations, civil unrest threatens, all the while the fertility Goddess keeps her watchful eye over them. Is it possible for Helen's fairy tale to have a Happily Ever After? Darius is firm in his believes of what makes a great ruler, will he flex a little and change with the times?
Robyn gives us a magically woven modern day fairy tale with The Goddess. I loved both Helen and Darius. They were so open and honest with each other and fun loving it would be impossible not to love them! That they could possibly find love in the most unexpected way at the most unexpected time added to the romance. there are twists and turns in the road ahead for them to overcome…will love overcome? Can Prince Darius have love and rule or will he need to choose?
There were some great secondary characters in The Goddess. Although The Goddess is a statue, an inanimate object, she is a vital part of the story with a rich history. Darius' younger sister added another great piece, their relationship growing and evolving as they both grow and change. For much of the book, as we are immersed in the life of Helen and Darius, we are also reading parts of a journal or story that Helen has found…of a time long past that gives us an exciting and suspenseful visit to the past, whether real or imagined we (and they!) are never really sure.
Robyn enchanted me with The Goddess. It was a fun, romantic, spiced up love story! Her descriptions of everything from the setting to the foods will take you right there to Helen and Darius. The Goddess is a modern romance, with a great old world flavor.
Book Info
Publisher: Entangled: Indulgence (May 12, 2013)
After college graduation, Helene Masters is excited to land a job in a picturesque Aegean kingdom. Tasked with sprucing up the Prince's villa, she inadvertently finds herself trapped on the  island with the sexiest man alive. Of course she has to fall for a man who is destined to only marry royalty.
Darius Vasily, Prince of Teirenias, can't figure out what pretty, but accident-prone, Helene is doing at his private estate. After dousing him in paint, she disappears inside the secret cave holding the royal family treasure—a fertility statue, but a cave-in traps them both. Now Darius has to figure out how to save them before he kills her for getting them into this mess in the first place—or gives into their amazing chemistry.