The Wright Love by K.A. Linde; Sutton is the youngest of the Wright siblings and she's lead a privileged life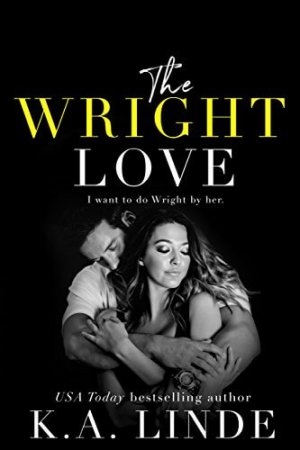 until last year. Losing Maverick so unexpectedly and at such a young age broke her. They didn't have much time together, but she's survived for their two-year-old Jason. Moving on seems impossible when the grief is still so fresh sometimes, but it might be time to start living again.
David has loved working for the Wrights over this last year. Leaving San Francisco was needed and Lubbock seemed like a good change of pace. He's sexy, charming, and fairly private about his past. He's become a really good friend to both Sutton and Jason and he's loved helping Sutton out in any way he could.
David knew Sutton was off-limits when he learned who she was, but he felt that immediate connection to the carefree, vivacious, and joyous woman he met. He knows loss and they have bonded since he is one of the only people who hasn't pushed her to magically get over losing her husband. They have a really solid friendship that neither could imagine giving up.
"I really want to kiss you," he admitted.
I drew in a sharp breath. Those words shattered any illusion we'd put on this night.
"But this is all up to you." His hand moved to my jaw, slipped down my neck and over my shoulder, and reached down to grasp my other hand. "This is whatever you want it to be. Ball is in your court."
Sutton is surprised by her new feelings for David and seeing him for the sexy and desirable man he is. They still have the ease of being with each other but there is a new underlying tension and desire now that both are feeling the attraction. David is so patient and understanding, but adjusting to their new relationship and everyone else's opinions is a struggle.
"I'll plan for it then."
"Oh, wait," I said as it hit me. "I can't."
He laughed. "Are you already bailing? This is quicker than the last time."
"Hey now! That was…unfortunate. Different circumstances."
The Wright Love is quite the rollercoaster; it is sexy, emotional, and heartbreaking. K.A. Linde explores grief, love, and family in an engaging story that I didn't want to put down. Ms. Linde provides quite the plot twist and cliffhanger that will leave you needing to know what happens next. The Wright Love can be read without reading The Wright series. Fans of Roni Loren and Tessa Bailey will enjoy The Wright Love.

Book Info:

Publication: Published May 15th 2018 | K.A. Linde Inc. | Wright Love Duet #1, Wright Series #5
A sexy new contemporary romance duet from USA Today bestselling author K.A. Linde…
I have the perfect life.
Until the day my husband tragically dies.
Being a single mom and widow was never part of the plan.
When David Calloway enters my life, I have no room for love in my heart.
But he's determined to do right by me.
Could he be the Wright love?
The Wright Love is the first book in the Wright Love Duet, and Sutton and David's story will conclude in The Wright One—coming May 29th! Get ready for your newest binge read.