In Crowned for the Sheikh's Baby (One Night with Consequences #42) by Sharon Kendrick,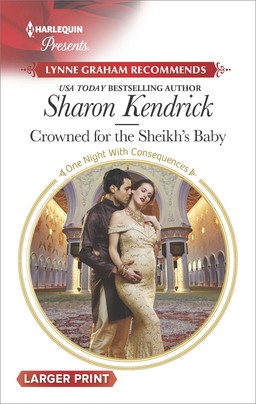 Hannah Wilson is always a woman that does the right thing, but when she gets involved with a hotel guest where she's a maid, she never imagined her time with Sheikh Kulal Al Diya would turn her life upside down the way it does. However, when she discovers she's pregnant, she's determined to find and tell the man she had a one-night stand with the consequences of their incredible night together. But when he proposes, Hannah knows accepting could leave her heartbroken, especially since the hero is so against falling in love with someone. Will Hannah be able to handle a loveless marriage or will she walk away from the man that makes her happy?
Hannah beamed with satisfaction. "I trust everything else is to your satisfaction, Your Royal Highness?"
He glowered. "Why do the staff here keep saying that same thing over and over again?"
She wriggled her shoulders a little awkwardly. "It's the Grandchester's promise, Your Royal Highness. They like us to reinforce the group's core message."
"Well, I've got the core message loud and clear so don't bother saying it to me again, understand?"
There was so much to like about this story such as the wonderful and strong heroine that tries to do what's right by her baby; the tough obstacles these two had to overcome to be together and the riveting dialogue. However, I wasn't a fan of the hero until right at the end. He's too arrogant, thinks everyone is out to take advantage of him and treats the heroine as if she's a servant that should fall in line with what he wants, especially at the critical moment in the story where their relationship goes awry.
The way this story started had me liking the heroine immediately, as she's worked hard to get to where she is in her job and she isn't about to let anything get in her way of staying on her boss's good side. However, being given the responsibility she's been given is going to test her willpower, especially since the hero is determined to get Hannah to stop being so responsible and let her hair down for once. Will the hero be able to convince Hannah that spending the night with him would be good for her? Moreover, the heroine is resilient, courageous and I liked how much of a challenge she provided the hero because there's no way she can settle for anything less than love and forever happiness.
"You're trying to tell me you would refuse such an offer?" he demanded.
And suddenly all Hannah's determination to keep calm dissolved beneath his arrogant sense of certainty. "Too right I would," she said fervently. "I don't really know you and at this moment, I'm not sure whether I even like you. We both probably want completely different things, so why would I marry you? I've had enough experience to realise that unless two people share a common goal, then marriage can be an out-and-out disaster."
Overall, Ms. Kendrick has penned a read that I did like in the end and where the chemistry between this couple gets stronger the more they interact; the romance was wonderful and shows how good the heroine is for the hero; and the ending had me liking that the heroine isn't willing to settle for anything less than love and forever after. However, in saying that, I loved how the hero makes things right with the heroine. His words are heartwarming and prove to the heroine how much she's come to mean to him. Yet, it was the epilogue that wrapped this story up nicely, as the heroine learns things about the hero's country that prove the hero married her for more than just to claim his heir. I would recommend Crowned for the Sheikh's Baby by Sharon Kendrick, if you enjoy the surprise pregnancy trope, the marriage of convenience trope or books by authors Lynne Graham, Annie West, Jennie Lucas and Sandra Marton.
Book Info: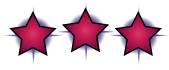 Publication: June 19th, 2018 | Harlequin Presents | One Night with Consequences #42
From innocent maid…
…to the sheikh's pregnant queen!
The last thing sensible maid Hannah Wilson expects is to be whisked off to a glamorous party by Sheikh Kulal Al Diya. Their intense chemistry and searing kiss lead to the most amazing night of her life — with the most shocking consequences! Now Kulal will do anything to claim his heir. Even if it means making Hannah his desert queen!