The Wrong Marquess by Vivienne Lorret is the third book in The Mating Habits of Scoundrels series. This has been a fun series to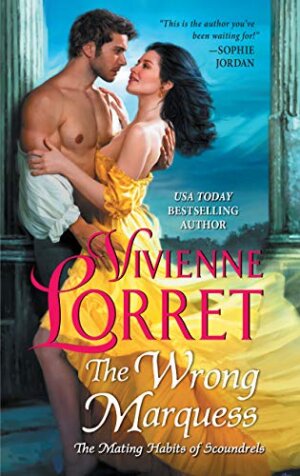 read, and each book can be read as a stand-alone. The book was well written, easy to read, entertaining, and had charming characters. The series is based on three bluestocking debutantes that are on the hunt for husbands and realize they need a book to guide them on how to recognize when a man is looking for a wife or if he's a scoundrel wanting to avoid marriage. Realizing there isn't such a book, they take it upon themselves to make a study of men and write one.
Elodie Parrish knew from the age of seven years old she was going to marry George, Marquess of Nethersole. He had told her they would at her father's funeral but years later she is still waiting for him to propose. She is sure he will propose this Season, but instead of finding him at events, she keeps running into Brandon, the odious Marquess of Hullworth. He is arrogant and thinks she is plotting to marry him. He will not believe she has her heart set on another man.
"A marriage-minded gentleman will surmount any obstacle in his path in order to win the woman he wants. To make her his, and his alone…."
Brandon was called "London's most elusive bachelor." Over the years he had perfected the art of avoiding marriage-minded mamas and scheming debutantes. He believes Elodie falls on the scheming debutante list and is afraid she has befriended Meg, his sister, in order to get close to him. Too late he realizes she has been telling the truth and who her George was. He commits to helping her with her research for her book and showing her George's true colors.
"A marriage-minded gentleman should always provide support and encouragement to the woman who holds his affections…"
Brandon and Elodie were so such an adorable couple and were perfect for each other. I loved how Brandon took Elodie's fears (and she had many) in stride and never made fun of her or pushed her. He quietly stood beside her and encouraged her whenever she needed it. Elodie reminded the cynical Brandon of the goodness that could be found in others. I enjoyed seeing Elodie overcome her fears and have more confidence in herself. George was a jerk, but Elodie never realized how he made fun of her and her fears until Brandon came along. As the series has continued the three women have been joined more friends and the book leads us into the next book. The next book is Prudence's story and after her betrayal to Elodie, my feelings for her are mixed. I am not sure how the author will turn her into a likable character but it should be interesting!
Book Info:

Publication: June 29, 2021 | Avon | The Mating Habits of Scoundrels #3
The wrong place…
Elodie Parrish can feel spinsterhood breathing down her neck. That's the trouble with waiting for the marquess next door her entire life. But Ellie knows if she gives him one last Season, he'll finally propose. The only problem is, her path keeps crossing with the arrogant Lord Hullworth, who is convinced she has designs on him.
The wrong time…
Brandon, Marquess of Hullworth, never wanted to be "London's Most Elusive Bachelor," or have a horde of hopeful debutantes and their scheming mamas follow him around. His past has left him too jaded to consider marrying any of them. At least, that's what he thinks… until he meets Ellie. She's quirky, opinionated, blushes easily, and drives him absolutely wild. The only problem is, she believes she's in love with someone else.
Ellie never imagined that one sultry summer could change everything. But the more time she spends with Brandon researching her book on the mating habits of scoundrels, the more she wonders if she might be falling for…
The Wrong Marquess