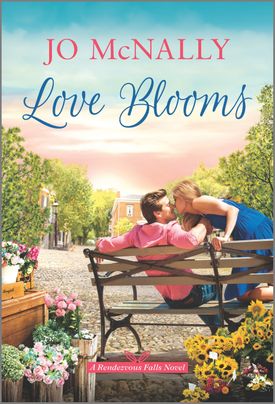 Lucy Higgins is a runaway bride who ends up in Rondezvous Falls, New York thanks to her best friend Nikki Taggart's help. Nikki is originally from Rondezvous Falls and has family there who run the Taggart Inn. So many things made Lucy runaway from Greensboro, North Carolina; not just Owen and the wedding. It didn't help that Owen seemed like a different guy after his last deployment, but the shock of her parents' impending divorce and her mother's affair contributed as well as Owen's overbearing mother. Lucy finds peace and a job she loves at Rondezvous Blooms. When Owen shows up in Rondezvous Falls Lucy doesn't know what to think. One thing she does know is that she's not ready to go back to Greensboro at this point and maybe she never will be.
Trigger Warning: View Spoiler »Pandemic references « Hide Spoiler
Owen Cooper loves Lucy Higgins. He is determined to win his runaway bride back. After he figured out where Lucy disappeared to he set out to prove his love. and goes to Rondezvous Falls. At first he was taking the advice of an app, Dr. Find-Love but then the wonderful people he met in town convinced him that was not the way to go. He needed to think of Lucy's needs and wants and be genuine. After Owen traumatizes Lucy by bringing her a cute kitten as a gift not knowing Lucy was very allergic to cat dander Owen realizes he needs to get to know Lucy better.
I have been really enjoying this series up until now. This storyline is interesting. The book is well-written and has great characters. But I lost interest with all the mentions of the pandemic. I read books to escape and be entertained. I don't find the references to the pandemic to be entertaining or an escape. I have spoken to various romance readers and there are two schools of thought on the subject of the pandemic in books. There is the group who think that real life matters in a story and the pandemic is part of real life and should be a part of a realistic story. Then there's the other group who see the story as an escape and don't want to be reminded of the pandemic. Color me a firm believer in the reading for escape group. This story has elements I enjoy reading like dealing with PTSD and family dynamics but the pandemic references threw me out of the narrative. I have read book blurbs that mention trigger warnings about the storyline. I wish authors would indicate pandemic references as a trigger. If I had known this book had a number of pandemic references in the story I would have never purchased it.
Book Info:

Publication: July 27th 2021 | HQN Books | Rendezvous Falls #4
It's never too late for a second chance…
Tonight should be the best night of Lucy Higgins's life. Tomorrow she's finally marrying Owen Cooper. She's been waiting to start a life of wedded bliss, like the happy marriage her parents have. Except…she just learned her parents are divorcing and she's freaking out. Owen has been so distant lately, shutting her out. Suddenly this big wedding seems like a really bad idea. Packing up her car, Lucy bolts for Rendezvous Falls and finds work at a flower shop while she gets her life together. The last thing she expects is for Owen to show up, wanting her back.
Owen Cooper's carefully planned out life is ready to begin. He's home from the military to join the family business and marry the sweet girl who captured his heart…until Lucy runs out on him. That was not part of the plan. Armed with an article that promises to help him win her back, Owen heads to Rendezvous Falls. But from the moment he sees her again, she seems…different. Happier, more confident and at ease. Can he convince this new version of Lucy that he's become the man she deserves? He might need a little help from the local book club to accomplish this mission…
Rendezvous Falls
Book 1: Slow Dancing at Sunrise
Book 2: Stealing Kisses in the Snow
Book 3: Barefoot on a Starlit Night