Their Baby Surprise by Katrina Cudmore: When you have demons in your past they tend to keeping edging into your present and even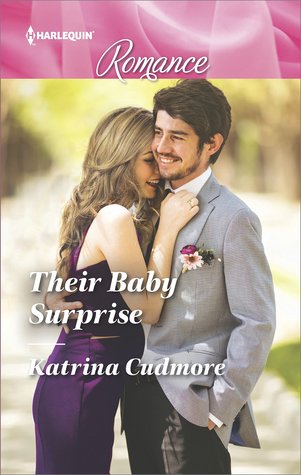 your future, until you manage to slay them. Keeping them at bay doesn't work forever.
Charlotte Aldridge knew that better than most. The problem was she was so used to her demon rearing it's ugly head that it was almost like an insolent puppy to her now. However when that demon threatens every ounce of happiness she has Charlotte has to decide is Lucien is going to be her knight in shinning armor and slay her demon for her, or if her love for him is strong enough to do it alone.
Lucien Duval has his own demons. If anything they have made him stronger on the outside while tearing him apart on the inside. He was relatively okay with the way things were though, well he thought he was anyway. Until the day Charlotte climbed into his car and told him the news that would alter his life forever. Now he had to face his demons head on so he, they, could move forward.
Can two people with major demons manage to conquer them and find true love? Or will fighting their demons take all they have?
Wow, this story is one of the few that can manage to take your heart bend it in every which way only to show you how strong it really is. Ms. Cudmore has done a fantastic job giving her character's depth, showing strength, dealing with hard issues and still having love run through everything. This story managed to pull on every heart string and make this reader a better person for reading it.
Book Info:

Publication: Expected publication: July 4th 2017 | Harlequin Romance |
A baby to bind them…
Construction lawyer Charlotte Aldridge always keeps love at arm's length, so one night of passion with handsome billionaire CEO Lucien Duval is more than enough. Until it changes her life forever…
Lucien doesn't make a habit of seducing his employees, but something about guarded Charlotte captures his attention and refuses to let go. And when she tells him she's pregnant, he's adamant that his child will have the one thing he never did—the love of two committed parents.