In Their Christmas to Remember (Scottish Docs in New York #1) by Amalie Berlin (HQN), Dr.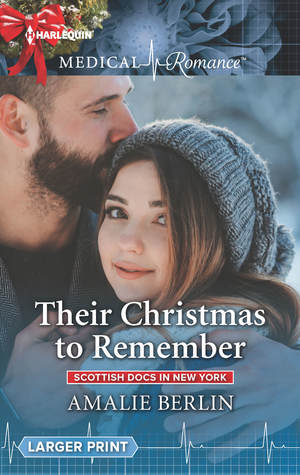 Angel Conley will do anything to make sure her young patients have a good Christmas, even if it means going out and having fun and maybe even end up embarrassing herself for their benefit. However, she never imagined she'd have anyone to help her until she finds herself teamed up with Wolfe McKeag, even if he is a reluctant partner in crime. Yet, the more time she spends with the Scottish surgeon, the more she finds herself falling in love. Will Angel be able to help Wolfe heal from his past, so they have a shot at happy ever after; or will she walk away before Wolfe ends up hurting her?
"How is that related to Christmas?"
"I don't know, you could sing 'Jingle Bells' or something."
She couldn't help but grin. Even weak and exhausted, Jenna was still all-in on the Christmas streams. "I think wheelchair races might be a little insensitive to our patients who have to get around in a wheelchair, honey. I wouldn't want to make them feel bad."
"But you can't run around now. Dr. Wolfe said you have to let your knee heal without strain and activity."
Being a reader that loves Scottish heroes, I dived straight into this book and found I could not put it down for even a second. Really, the way this story started had me immediately hooked, as the heroine is a good doctor determined to make her patient feel right at home, even though her patient is someone that doesn't seem to be able to catch a break. Will Angel be able to make Christmas a good one for her patient? However, it was from the moment the hero and heroine come face-to-face for the first time where this story really takes off, as there's subtle matchmaking and a wonderful connection between Angel and Wolfe that had me excited to read what obstacles these two had to face to be together.
As for the dialogue, it was intense due to the main characters back stories, especially that of the hero. He has a strained relationship with his brother because of all that's happened in their pasts and it's understandable why he's so determined to make things better between them. Since his brother did lots for Wolfe growing up and he wants to return the favor. Will Wolfe be able to get through to his brother? Will Angel be able to help him? Moreover, I really enjoyed both the main characters. They're good with their patients and I loved how far they're willing to go to help the kids on the ward have a good Christmas. I also liked how the heroine shows the hero that there's still plenty of good in the world and just because his parents are awful and bad at relationships, it doesn't mean that he'll be the same.
"I want to keep doing all the things until Christmas gets here." She said.
His brows popped up, but he smiled. "After Santa comes are you going to wear the elf costume for me?"
"I thought I just got a promotion to Mrs. Claus?"
"Okay, okay. Wear the elf costume for me later though." He wiggled his brows before tugging her in for a kiss.
Overall, Ms. Berlin has delivered an absolutely entertaining and charming read in this book where the main characters have plenty of chemistry; the romance was tangible and delightful; and the ending had me loving the hero's determination to win Angel's heart after how their relationship goes awry. The hero's words and his actions to show the heroine he wants forever with her is heart-warming and had me loving the hero even more than I already did. I would recommend Their Christmas to Remember by Amalie Berlin, if you enjoy medical romances or books by authors Tina Beckett, Annie O'Neil, Amy Ruttan and Charlotte Hawkes.
Book Info:

Publication: November 20th, 2018 | Harlequin Medical | Scottish Docs in New York #1
A Christmas kiss…
…with the rebel surgeon!
In this Scottish Docs in New York story, Dr. Angel Conley will do anything to bring the joy of Christmas to her young patients. Only she doesn't count on gorgeous Scottish surgeon Wolfe McKeag being her reluctant partner in crime! They've both spent their lives running from relationships, but as their passion for each other turns into so much more, dare they believe in the magic of Christmas?