Their Reunion to Remember by Tina Beckett: Lia has build a good life for herself as a vascular surgeon at Nashville's St.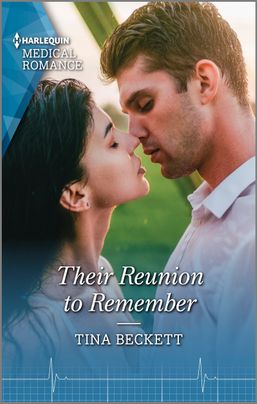 Delores Hospital. She stays busy with work and has her good friend Avery and her cat Samantha to keep her company in after hours. Because of her rare condition of prosopagnosia aka face blindness, she tries to not form close ties. Only Avery and her parents know how this issue affects her daily life.
Right after medical school Lia broke up with her first love, Micah. She loved him deeply, but was afraid if they got married and had children, she would not even recognize their faces. When she comes face to face with Micah at a concert, she doesn't recognize him until he says his name and she hears his voice. Of course she hadn't ever expected to ever see him again. He had gone to Ghana as a sort of Doctors Without Borders group. He has come back to Nashville to work at the same hospital where Lia works and look out for his father who has cancer. Can Lia and Micah keep their distance from each other or will circumstances and the old feelings throw them together?
As someone who was involved in the hospital lab and a sister, niece and daughter who are all nurses, medical stories are intriguing. Learning about Lia's rare condition was interesting and it's understandable that she was ashamed of it and wanted to keep it a secret. It was also interesting to read about the pertussis outbreak. I, too, thought that was a problem that had been eradicated.
The author did an excellent job of showing the reader how Micah's early family life had shaped him both as a child and now as an adult. Despite all that, he felt he had to be there for his father when he was so ill.
The romance between Lia and Micah simmers until it reaches a full boil. Despite the past few years apart the spark is still there.
Overall, I found Their Reunion to Remember a lovely story. I would have given it an even higher score, but the author's overuse of the word "Dio" started to get annoying to me. I realize the author was trying to show Lia's Italian background, but a variety of terms would have not been so repetitive and distracting.
This novel is #2 in a duet by two different authors, but is basically a standalone. I will continue to enjoy opportunities to read more medical romances.
Book Info:

Publication: December 28, 2021 | Harlequin Medical Romance | Nashville ER #2
Then: an almost happily-ever-after
Now: a second chance?
Surgeon Lia Costa has spent a lifetime trying to blend into the background. So when Dr. Micah Corday picks her out of a busy concert crowd on Valentine's Day, she can't believe it! Micah was her first love…and the man she thought she would never see again. Is Lia ready to remember the powerful love that she had tried so hard to forget?