Lucky Leap Dayby Ann Marie Walker: After being dumped by her boyfriend, aspiring screenplay writer Cara decides that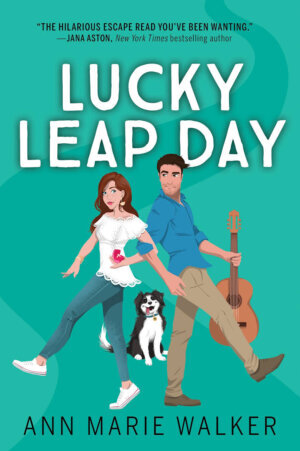 giving up a once in a lifetime trip to Ireland would just be stupid, which is how she finds herself flying solo to Dublin for the leap year weekend. However the last thing Cara expected was to get so caught up in the charm of her taxi driver Finn, so much so that Cara winds up embracing the Irish leap year tradition of women proposing to a guy she barely even knows! With her weekend gateway fast coming to an end Cara has to figure out what do with her new husband and her new feelings for him!
"He was definitely going to kiss her. Right there. In the same chapel where two star-crossed lovers were denied that simple pleasure."
Firstly let me start of by saying I absolutely loved this book! It gave me such Leap Year vibes and anyone that enjoyed that movie will absolutely love this book. Lucky Leap Day was a cute romcom read with the perfect combination of Irish charm, meet cute, will they or won't they and of course a cute puppy named Oscar. This was definitely the type of book that pulls you in right from that hilariously cringy meet cute and has you hooked right to the very end.
Cara was such an amazing female lead character, I loved getting to see her step out of her normal shoes and live for the moment while she was in Ireland. As much as I loved their brief time in Ireland, it was getting to see Cara and Finn playing house while back in L.A that truly made their romance super cute. I loved the relationship between Cara and Julia, these two were truly ride or die, I loved their bond and that Julia had her back throughout. On a side note; I really enjoyed getting to see Cara finally finishing her screenplay with the help from Finn. The entire story of Grace and Joseph told by Finn was incredibly captivating.
Oh my sweet romance loving heart just melted when it came to our Irish charmer Finn. I really liked that he was so down to earth and completely chilled out. I have to say that I too had my doubts about his motives but talk about a big gesture to prove his real motives! I really enjoyed watching Finn fit so seamlessly into Cara's world and that he actually wanted for their relationship to bloom into more.
I'm a huge sucker for a cute pet and all the sweetness that they add to a story and this was definitely the case with Oscar. I absolutely loved that he had his own little romance along side his owner's. Also how cute was that epilogue? I have to also mention the cover, talk about the cutest most apt books covers! I loved the cute playfulness of this cover and that it truly depicts this story. Lucky Leap Day is a definite must read, this book ticks all the right boxes and delivers one cute little romcom!
Book Info:

Publication: January 18th 2022 | Sourcebooks Casablanca |
After one-too-many whiskeys, fledgling screenwriter Cara Kennedy takes a page out of someone else's script when she gets caught up in the Irish tradition of women proposing on Leap Day. She thought she might have dreamt everything, until she wakes the next morning with a hot guy in her bed and a tin foil ring on her finger. Her flight is in four hours, her clothes are all over the room, and she has the most important meeting of her career in exactly two days—and on top of everything else, her husband has a dog who thinks Cara is a perfect surrogate mother, despite the fact that she has never been much of an animal lover…
Deciding to work things out stateside, Finn and her new fur baby accompany her to LA, where Finn spends his days going on auditions and his nights charming his new bride, leaving Cara to wonder whether this is real love, or if Finn is another aspiring actor just after her Hollywood connections? With limited time on his tourist visa, will Finn be able to convince Cara that she's the right girl for him, or will time run out on their Hollywood ending?