In Their Secret Royal Baby by Carol Marinelli, being called into the ER to deliver a baby shouldn't be a problem for Dr. Elias Santini,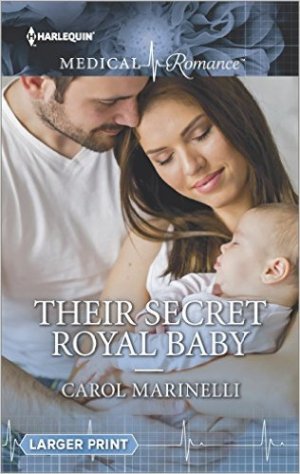 but when he discovers that his patient is the gorgeous woman he spent an incredible night with months ago, it's not as easy as he thought it would be. Learning that she's in premature labor with his baby, Elias is determined to make things right, because no way is he going to let Beth get away a second time.
"The last time I was lying down," Elias said, "she wasn't even born."
"Were you asleep when I came in?" Beth asked, remembering how rumpled and unshaven he'd appeared.
"Yes," Elias said. "Mandy came and woke me up and said there was a premature baby about to be born."
"When did you realize it was me?" Beth asked.
"As soon as I saw you."
When Beth Foster told her parents she was pregnant, they weren't real supportive. So, without having anyone to lean on, she finds herself in distress and her baby about to be delivered several weeks before the due date. Discovering the father of her baby is the man about to deliver it; Beth knows she's going to have to make things right between them. No way should she have kept the baby a secret from him. Will he be able to forgive her, so they can have a chance at forever love?
I've read a few books by Ms. Marinelli and really enjoyed them, so I couldn't wait to dive into this story and I've got to say that the way it started with the scary situation Beth finds herself in sets the fast-pace of the story and along with the plot and dialogue had me hooked to discover whether the baby would survive, whether Beth's parents would come around and whether Beth would give Elias a chance once she discovers his secret.
Both the main characters were really good, and I could understand why the hero doesn't fall in line with his parents wishes. They ask too much of him, especially his mother. Pressuring him towards a relationship with a woman he didn't want, so instead he rebels by following his dream of being a doctor and finding a woman that he could see himself falling in love with. Indeed, I loved how this story started with the present and a few chapters in flipped to the moment the hero and heroine met. Elias is getting tired of the lifestyle he's leading – the incessant parties and the arguments with his parents — when he meets Beth, and she's just the distraction he needs. He never expected his life to take such a turn the way it does, but finding Beth again is a blessing.
"I was rude to your mother."
"It gave me a smile."
"I don't know how my family will take the news. My father —"
"Will be fine." Beth gave a hollow laugh. "He was fine, in fact. Well, a bit shocked at first and he told me that my title doesn't impress him one iota…"
"You've spoken to him?"
"Yes." He nodded. "We had tea! And I refrained from telling him that his title terrifies me."
Elias is a wonderful hero, and I couldn't help but feel sorry for him. He has a huge secret he's keeping from Beth that if she knew could send her running from him. Then there's also the fact that his parents aren't thrilled about the latest development in his life. Can he convince them that Beth is the right woman for him? That she's not some woman trying to take advantage of him. While Beth, she's strong and brave in everything she goes through. Delivering her baby as early as she did was a tad emotional and brought tears to my eyes, but she handled everything thrown at her the best way she could with love and support from Elias and those secondary characters that love her. Moreover, I could sympathize with her in regards to the situation with her parents.
Overall, Ms. Marinelli has penned a really good read in this book where the growing relationship between the hero and heroine had me cheering that everything would work out for the pair and that Elias's mother wouldn't come between them with her demands. The way this story ended was delightful with the story Elias was telling to their child about his secret because it was the only way to make Beth understand who he really is. However, it was the epilogue that wrapped this story up nicely. Who knew Elias's mom had a softer side? I would recommend Their Secret Royal Baby by Carol Marinelli, if you enjoy the second chance romance trope or the surprise pregnancy trope.
Book Info:

Publication: February 21st, 2017 | Harlequin Medical |
Royal baby born in the ER!
Dr. Elias Santini, secret prince of Medrindos, has his world rocked when he attends an emergency delivery. The patient is Beth Foster, the woman he spent one stolen night with, and she's in premature labor…with his baby!
Estranged from her strict parents, Beth both fears the desire between them and yearns for the support Elias offers her as their tiny newborn fights for her life. A fiery kiss tempts Beth to risk everything, but what will happen when she discovers her daughter is the future heir to the Medrindos throne?