Jacked Up by Samantha Kane is the third book in the Birmingham Rebels Series and just like the other two books, this one is seriously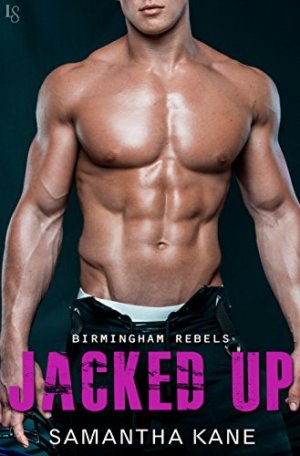 HOT and when I say HOT I am not exaggerating, this story is a scorcher!!
Sam Taylor is a professional football player, but before that he was in the Army, which sent him to Afghanistan. He's plagued with nightmares and fears of hurting people. He's sort of a monk and doesn't hook up with any women because he's afraid he will hurt them. One of his best friends who also plays ball, wants him to get out and get laid.
King Ulupoka has a big presence. He's easy going, lovable, and tells it like it is. He's willing to sit in the room and watch while Sam gets it on with the naughty nurse, but before long, he's no longer a bystander but an actual player in this game.
Jane Foster is a good girl, she's actually obsessed with being a good girl, but she wants to be bad. So she does stuff that bad girls do. She has a one-night stand with Sam and allows King to watch. Then when they meet up again at the hospital where she works, the three of them, get together and explore their naughty sides.
I loved Sam, King and Jane together. They are honest with each other and not afraid to take things as they are, but there will be some insecurities that might get in the way and that's totally understandable with three people in a relationship. These three are really great together once they get out of their heads and do what they feel. This book won't be for everyone. There is plenty of sex going on, so be prepared. If you want to read a highly enjoyable story about three people who find themselves and find love with each other, despite their vulnerabilities, this is a great story to read next!
Book Info:

Publication: January 31st 2017 | Loveswept | Birmingham Rebels #3
The secret about the Birmingham Rebels is out: With a girl in the middle, two mouth-watering football studs are better than one.
Linebacker Sam Taylor feels like a ticking time bomb. He left the army with emotional wounds as fresh as the scars on his back. Sam's been living like a monk, but his best friend, defensive lineman King Ulupoka, wants to get him laid. Easy for him to say. The larger-than-life Samoan is a hard-bodied, tribal-tattooed fantasy. Sam agrees, under one condition: King stays to watch.
ER nurse Jane Foster is done being a good girl, and nothing says wild like picking up two of football's sexiest players and bringing them back to your hotel room. Trouble is, she can't decide which one she wants more. Sam is hot, sweet, and vulnerable. Jane's more than willing to ride him into oblivion. But King's intense gaze from across the room promises that the best is yet to come.
Sure, King has had his choice of girls and guys in the past. That doesn't mean he'll jeopardize his relationship with Sam over a case of locker-room lust—until a naughty nurse pushes them both out of their comfort zones. Seeing Jane and Sam together turns King on more than he ever imagined. If they're game, he's ready to tackle a three-way play.