In Theirs to Keep (Tangled Hearts Trilogy #1) by Maya Banks, Elle can't remember who she's running from or even who she is, but she knows she needs to lay low. Merrick Sullivan and Cade Winslow rescue her when she's found hiding in their client's building. Their size and appearance frighten her at first, but even though they look big and badass, Elle can sense they won't hurt her. Before long, she finds herself falling for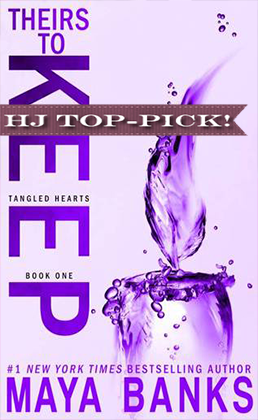 them. Both of them. Which further confuses her, as she no longer wants to deal with her past. Elle only wants to create a new future with Cade and Merrick by her side.
'He could lock his emotions away until they were encased in stone. But this slip of a woman unraveled him as no other person had ever even come close to.'
Cade Winslow has been focused on his security business and getting Merrick to the top of the MMA world. He never thought he'd meet a woman that could bring him to his knees and have him wanting to protect her so ferociously. But that's exactly what Elle does to him. Cade knows Merrick feels the same way and that they will have to find a way to deal with the situation before it rips apart their longstanding friendship.
'He wanted to absorb the fear and darkness that invaded her soul. Take it from her so she never suffered again.'
Merrick Sullivan is on the top of his game and has a shot at the heavyweight championship finally. But then a late night business call changes his world completely. His focus shifts from his career in MMA to Elle. Merrick must decide if he still wants to go after the title and if he can find a way to not only balance his time with Elle, but also express his need to make her his own.
"We want you. Safe. With us. In our arms. In our lives. That's all that counts in the end."
Theirs to Keep is an intense erotic romance that will play at your heart-strings and not let up. I could not stop reading this story, I found it so compelling. The plot kept me on the edge of my seat. And the love scenes? All I can say is…Holy Hotness!
She wanted to be touched and held. Loved. She wanted to be made love to. And she wanted to make love to them.
"What is it, baby?" Merrick asked in a husky tone.
"Will you… Will you and Cade make love to me?"
I've read several of Maya Banks' novels and love the characters she creates. They are usually tortured souls and have emotional baggage, but they are innately good people with a lot of love and passion to share. The same can be said for our three main characters Elle, Cade and Merrick.
Poor Elle has been to hell and back and somehow finally finds protectors in Cade and Merrick. My heart went out to Elle with everything she endured. And the fact that she could trust again and wasn't emotionally crippled was heartwarming. Okay, so it may seem far fetched and like a hot fantasy that two guys would think about entering into a relationship with one woman, whom they both equally love. But it's a gooooooood fantasy! And somehow the way that Maya presents the story, it seems feasible.
Cade had a rough time coming around to admitting his feelings for Elle and what to do about it. I thought it was interesting that it took some coaxing from the big, bad MMA fighter before Cade caved and made a decision. Although I thought both guys were equally wonderful, for some reason I have a soft spot for Merrick. I don't know if it's the thought of a man who can tear someone apart in the ring being so careful and loving to a woman in need of help. Or if it's the way Merrick was so possessive of their situation, constantly looking for ways to keep Elle safe and happy.
I'd definitely recommend Theirs to Keep if you like steamy erotic romance mixed with a bit of suspense and action. Now I'm looking forward to reading more of their story when it continues with book two: Always Mine.
Book Info:

 HJ Top Pick
Published October 22nd 2013 by Maya Banks
When Cade Winslow and Merrick Sullivan find Elle hiding in the cabinet of a gun store, they know they can't just walk away from the fragile woman with no memory of who she is or who tried to kill her. Merrick is training for the title shot in the heavyweight division as a mixed martial artist and can't afford distractions, but neither can he turn his back on the woman who tugs at his heartstrings.
Elle feels safe with her two protectors, and the longer she spends with them, the more she realizes that she has no desire to remember her past. Not when it could compromise her future with Cade and Merrick.
Cade has his own set of concerns when it comes to Elle, and it quickly becomes clear to the two men that for the first time in their friendship, a woman is coming between them. But what if they just kept her there? Between them. Where she belongs.