In Kissing Under the Mistletoe (The Sullivans #10) by Bella Andre, Holiday traditions are very near and dear to Mary Sullivan. She is devoted to her family and in keeping alive the memories of their father, her beloved late husband, Jack. While she prepares their vacation home in Lake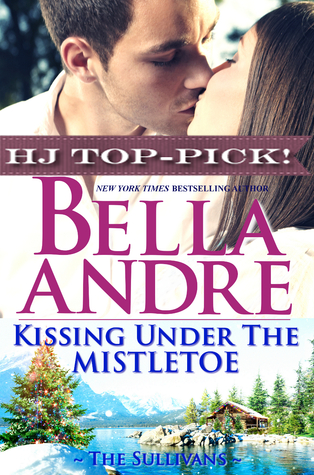 Tahoe with Christmas decorations, she can't help but remember the day she met her husband and their whirlwind courtship that followed.
'Maybe, she thought as Gerry finished shooting his final roll of film and the gorgeous stranger walked toward her, today won't be an end, but the beginning of something new and amazing.'
Mary'd had her heart broken before and wasn't sure if she was ready to take a chance on love again. But Jack Sullivan just kept taking her breath away with his honesty and patience. He wanted to do right by Mary, and because of how caring he was, she couldn't help but fall for the brilliant engineer. They both had found success in their careers, but now it was time to move on to the next, and best, chapter of their lives…together.
'Jack Sullivan was everything she'd ever looked for in a man. Smart. Sexy. And with a heart full of so much warmth it stunned her.'
I swear every time I read another Sullivans novel Bella Andre keeps getting better and better. Kissing Under the Mistletoe is one of the sweetest, loveliest romances I think I've ever had the pleasure of reading. And although I've enjoyed all of her previous novels, there's just something about Jack and Mary's story that pulled on my heartstrings like no other. *sigh*
"I don't care how much you yell," he told her. "I don't care how many things you throw at me. I'm not going anywhere, Mary. Not now. Not ever. I loved you from the first moment and I will love you until the last."
We've caught snippets of her life after becoming a wife and mother throughout her children's stories, but this is Mary and Jack's turn to shine. And do they ever shine. Theirs is a love story that is so passionate, so caring, that I was completely wrecked emotionally by the time I finished. I laughed, I cried, I yelled at them both…you get the idea. I was swept away with all of the love they felt for each other.
But through it all, I was just amazed at how real Mary and Jack were, even though they had every opportunity to be selfish or conceited. They both simply wanted someone else to love and care for forever and to start a family. They were perfectly suited for one another as they both held their family and friends as their highest priority yet were still equally passionate about their work.
I was worried about how the setup of this story would play out…would there be a bunch of flashback moments? Or would it all be set in the past? Without giving away too much, suffice it to say that the format worked wonderfully. We being in present time and then get to relive Mary and Jack's courtship before coming back to the present at the very end. Bella still wrote this with as much emotional intensity as ever, and even though they were a very tender couple, there was still a lot of fire and passion between them, which is evident in their love scenes.
I highly, highly recommend reading Kissing Under the Mistletoe. Whether or not you have read any of the other books in this series, you will still fall in love with Mary and Jack and realize why the rest of the Sullivans turned out so wonderful themselves.
Book Info:

 HJ Top Pick 
Published September 24th 2013 by Harlequin MIRA |  Series: The Sullivans #10
For Mary Sullivan Christmas is, and always has been, about family. And this year is no different. As she awaits the arrival of her eight children and their partners at the cottage in Lake Tahoe, she hangs the ornaments that they made for her over the years. Each decoration brings with it a tide of memories, all of which she holds dear to her heart. But when she comes across the oldest ornament, the one her beloved husband, Jack, gave her on their very first Christmas together, Mary is immediately swept back to the first days of their whirlwind romance, to the love that would be the foundation on which they built the family she is so proud to call her own.
Join the Sullivans this Christmas for a story that explores the wonder of the holidays, the meaning of family and a love that transcends time.