In Then Came You (Laws of Attraction #3) by Kate Meader, Aubrey Gates and Grant Lincoln were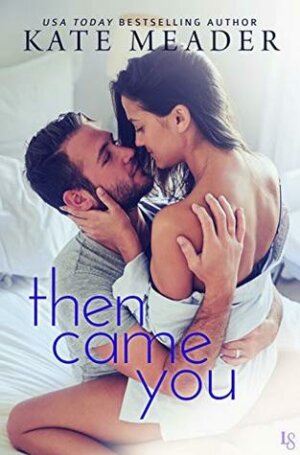 married until a tragedy tore their marriage apart. However, when she needs a ride home for the holidays, Grant offers to drive her, even though spending time in a car with each other is not ideal when they still have feelings for each other. Yet, the more time they spend together, the more determined Grant is to win Aubrey back. But if she can't let go of the past, will they ever have a second chance at forever after?
Is that where he thinks we've landed? "Are we? In a good place?"
"I think we're closer to it. First year's the hardest. But we've managed to co-exist at various social events and on elevators for a couple of months now."
True, it's getting better. I'm not sure how I feel about that. "But your own holiday plans?"
"I can visit my mom and sister on the weekend after Libby's birthday party. We can tell her the day after so it doesn't ruin anything for her."
Ms. Meader weaves a wonderful but truly heartfelt tale in this third book of her Laws of Attraction series where the hero and heroine went their separate ways after a heartbreaking loss, but now find themselves beginning to repair their relationship when Aubrey reluctantly agrees to Grant offering her a ride home. The way this story started had me sympathizing with this couple, as being around Grant isn't easy for Aubrey and vice versa. Since the hero is a painful reminder of all they lost for Aubrey and the hero doesn't want to cause her any more pain but has decided they can't keep going the way they have. That they have to learn to be in each other's lives because they're rivals in the courtroom and have the same group of friends that makes it hard for them to avoid the other.
As for the dialogue, it was entertaining and intense due to the main characters back stories, but also tugged at my heartstrings because no woman should ever have to suffer the kind of tragedy Aubrey does. Yet, things happen for a reason and the tragedy made the heroine harden her heart in order to protect herself from the pain. Will Grant be able to break through the high walls Aubrey has erected? Will Grant be able to help Aubrey heal? Since continuing to grieve their loss is no way to live, especially when Aubrey feels like such a failure and no good for anyone. Moreover, the main characters are relatable, likeable and I enjoyed how they helped each other to heal and didn't allow anything to hold them back from achieving their second chance at happy ever after.
"Guess my binding skills need work."
"Don't think you'll ever be able to keep me away." He rubs my nose, a gentle nuzzle that makes my heart swell. "No matter what happens, Bean, I'll always be here for you. Where you're concerned, I'm a lifer."
I swallowed around the lump the size of a ham hock in my throat. "Quite the punishment."
"Happy to take it."
And then he proceeds to show me how happy he is.
With the heroine, I liked that she's risen above her family situation — in where she's never really felt like she fit in — to be the resilient, courageous, independent, driven and stubborn woman that she is. I also liked the tight bond she shared with her grandmother, even though there are just some things she feels she can never really share to her closest relative. Will Aubrey open up to her grandmother about what went wrong between her and Grant? Will Aubrey's grandmother be able to help bring them together again?
While the hero, he's smart, confident, driven and I liked how determined he was to win Aubrey back, despite the fact that things could be over between them for good if she learns the truth of something he's been keeping from her. Will the heroine discover the truth? Will it make her run for good or glad that someone was there for Grant? Since she should have been more invested in their marriage instead of closing herself off to the man she still loves? Yet, what I liked most of all about the hero was the close relationship he shares with his family and how they want what is best for him. Will his mother ever realize how much he needs Aubrey in his life, despite their marriage going belly up and Grant being hurt so much?
"And you think we're worth another shot?"
"I do," she says. Defiantly, almost.
"Well, counsellor." I gesture to an unspotlighted point of the floor behind my momma's coffee table, just to the right of the half-trimmed Christmas tree. "Make your case."
Overall, Ms. Meader has delivered a wonderful read in this book where the chemistry between this couple was strong and convincing from the moment they come face-to-face for the first time; the romance was hot with a good dose of dirty talk; and the ending had me loving what the heroine does to prove to Grant that they deserve a second chance at forever. Really, she's an extremely brave woman. Not just in her pursuit of Grant but by the way she finally comes to terms with what happened in the past and begins to heal from it with the man she loves. However, it was the epilogue that wrapped this story up perfectly and left me smiling because of how much happiness Grant and Aubrey have found after achieving their second chance since every moment is precious. I would recommend Then Came You by Kate Meader, if you enjoy the opposites attract trope, second chance romances or books by authors Jennifer Bernard, Kimberly Kincaid, Erin Nicholas and Samantha Chase.
Book Info:

Publication: May 7th, 2019 | Loveswept | Laws of Attraction #3
In the courtroom, they're rivals. In the bedroom, they're . . . divorced. But could the road trip from hell lead to a second chance at love?
Aubrey Gates is the hottest divorce lawyer in Chicago, a barb-tongued stiletto with legs that go on for miles. When her cool gray eyes meet mine across the battlefield, I want her like I've never wanted anyone or anything. Then I remember who she is: the woman who brought me to my knees. The woman who destroyed my faith in relationships.
The woman I used to call . . . wife.
And she needs a favor from me, Grant Lincoln.
It seems my ex forgot to mention the demise of our marriage to her dear old grammie, and now we're both expected to attend her ninetieth birthday party. In Boston. And because it isn't already awkward enough, Aubrey and I are driving there together from Chicago. That's more than a thousand miles of tension, heartbreak, and barely concealed lust.
A little piece of paper might say we're over, but this road trip is the true test. I intend to get my wife back . . . and I won't stop until "I do."