In The Unhoneymooners by Christina Lauren *5/14/19* Priority!!, As Olive Torres dutifully ticked lines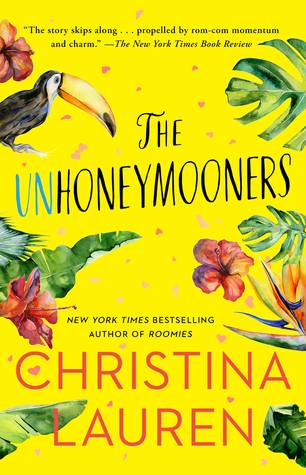 off her twin sister Ami's mile long to-do list, she had no clue her unluckiness would rub off on the perpetually lucky bridezilla, er–bride-to-be. Everything about the wedding (which was mostly free thanks to Ami's winning streak with contests) was planned out to the Nth degree. Including the (free) seafood buffet. Which in hindsight might not have been a good idea, considering the food was unknowingly riddled with bacteria causing food poisoning of apocalyptic proportions. Well, to everyone present at the wedding except maid of honor Olive and best man, Ethan Thomas.
"So we have to pretend to be married? Like, touching and…warm?"
Ethan spits out the word warm like most people would say dismemberment.
"It would mean everything to me… I promise I'll be the best fake wife you ever had."
While the wedding party and guests all feel like they're knocking on death's door, the new bride and groom try to push Olive and Ethan into taking their prepaid honeymoon to Maui together, posing as newlyweds. Only there's one big problem: they can't stand to be in the same room at the same time, let alone spend ten sun-soaked days in each other's company pretending to be blissfully in love. But for a chance to take a dream vacation? Olive is willing to try if Ethan is. Surprisingly, after some bumps in the road, she has to admit that it's…tolerable spending time with her nemesis. And it has Olive wondering if maybe she's pegged Ethan wrong all this time.
'Staying firmly on Team I Hate Ethan Thomas is going to be more work than it may be worth.'
Oh, the humor and oh, the heart! Christina Lauren put an entertaining spin on an enemies to lovers trope, set it (mostly) in a tropical paradise, and threw every awkward situation at our hero and heroine. The result? Pure unadulterated magic.
'Being around an Ethan I don't want to punch is disorienting enough. Being around an affectionate, charming Ethan is like suddenly being able to walk on the ceiling.'
I do love me some CLo, especially their rom-coms which tickle me to no end. It always impresses me that this duo writes so seamlessly together. You would never know it's a pair of best friends and not a single author who creates these laughter-inducing characters and plots. But for as much as I giggle my way through their books–I just adore their sense of humor–I know CLo will also find a way to bring emotional depth to their characters, keeping the story grounded and relatable. That was certainly true for Olive and Ethan's wild ride to romance.
One of the things I most enjoyed–aside from the kickass bantering CLo is known for!–was that our main characters were both in their early to mid-thirties. That meant Ethan and Olive brought with them some baggage from previous relationships and had real life experiences to base their opinions on when it came to what they wanted. I loved laughing and sighing along as their views on each other changed drastically while on the b-e-a-utiful island of Maui. Let's just say that things weren't always what they seemed over the years since Olive and Ethan met, and it was a series of unfortunate events that led them to the sarcastic verbal battles everyone came to expect between them.
The sub-plot of Olive's twin sister Ami and her new husband Dane was also quite interesting. It was in the background of Ethan and Olive's journey which at times created some static between all four of them as one would expect with two siblings (Ethan and Dane) dating two siblings (Olive and Ami). There were a few moments I wanted to give some of them a good shake (lol) but overall I think things ended in a plausible way with HEAs all the way around in one way or another. And I think readers will get a huge kick out of Olive and Ami's Mexican-American family, who were all loud, loving, hilariously nosy, and wonderful people who only wanted the best for each other.
Witty, uproariously funny, and ridiculously sigh-worthy, The Unhoneymooners was Christina Lauren at their rom-com best. This standalone will be perfect for newbies to the duo's writing or for superfans. Either way, you'll be sure to have a fantabulous time.
Book Info:

Publication: May 14th 2019 | Gallery Books |
Olive is always unlucky: in her career, in love, in…well, everything. Her identical twin sister Amy, on the other hand, is probably the luckiest person in the world. Her meet-cute with her fiancé is something out of a romantic comedy (gag) and she's managed to finance her entire wedding by winning a series of Internet contests (double gag). Worst of all, she's forcing Olive to spend the day with her sworn enemy, Ethan, who just happens to be the best man.
Olive braces herself to get through 24 hours of wedding hell before she can return to her comfortable, unlucky life. But when the entire wedding party gets food poisoning from eating bad shellfish, the only people who aren't affected are Olive and Ethan. And now there's an all-expenses-paid honeymoon in Hawaii up for grabs.
Putting their mutual hatred aside for the sake of a free vacation, Olive and Ethan head for paradise, determined to avoid each other at all costs. But when Olive runs into her future boss, the little white lie she tells him is suddenly at risk to become a whole lot bigger. She and Ethan now have to pretend to be loving newlyweds, and her luck seems worse than ever. But the weird thing is that she doesn't mind playing pretend. In fact, she feels kind of… lucky.