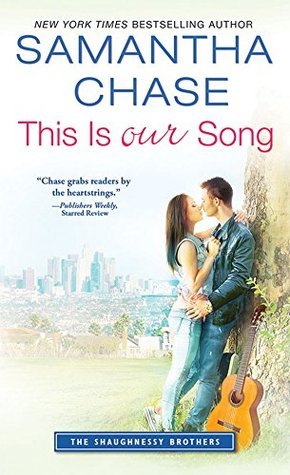 This Is Our Song by Samantha Chase finds Riley Shaughnessy in a tough spot; on break from his band, he's recording a solo album. Or, he's at least trying to. He's hit a roadblock and can't produce anything. The record label is on is back to finish the record, his manager is on his back to finish it. With the label threatening to shelve the project, his manager decides he needs good publicity. He gets magazine to get a reporter to spend a month with Riley in write a multi-episode article.
Savannah Daly doesn't like Riley's band, so when her boss tells her he's pulling off the Coldplay story, which she really wanted, she's understandably upset. The more time she spends with Riley and his family, however, she begins to like him as a person. And when he finally starts to be able to write music again, she's impressed with what he's able to produce.
This was my favorite book in the series so far. Poor Riley was afraid to even leave his house, for fear of hearing people talk about him, due to the rumors floating around that he was the least talented person in his band. Savannah starts out disliking him, but as she learns about him and his insecurities, she grows to realize that he's just another person dealing with his own issues. The pair work well together and are able to bring out the best in one another.
If you've read the previous books in the series, you know the Shaughnessy's are a close-knit family, and readers get to see this again in this book. Their interactions with one another were playful and teasing, yet they were supportive of one another as well. Readers get to see a bit more of Riley's twin, Owen, in this book. It's clear that even though he and Riley are complete opposites (Riley and outgoing and Owen hates the thought of socializing), they are really close.
His phone rang and when he saw his twin brother's face on the screen, Riley nearly sagged with relief. Before he could say hello, Owen was talking.
"As a scientist, it's hard for me to accept this twin telepathy, yet I found myself driven to call you because I felt you were really sad. Are you okay?"
Riled smiled and sat on the couch and relaxed. "Come on…you mean to tell me after all these years you doubt the telepathy thing? I would have thought you'd be anxious to run experiments on us."
Something is bothering Owen in this book, and it makes me look forward to reading his story.
This Is Our Song is a sweet story about two people re-discovering a passion for their careers and finding love along the way. It's about family being supportive, no matter how hard things seem. If you've read the previous stories, you won't want to miss this one.
Book Info:

 December 6, 2016 | Sourcebooks Casablanca | The Shaughnessy Brothers #4
She knows him by reputation
Riley Shaughnessy knew that to stand out in his large family, he'd have to go big. Making a name for himself as a musician wasn't easy, but he followed his dreams to rock-star success. But the relentless expectations of fans is not helping the slump he's in now. So of course the person who attracts him is the woman who is not impressed by fame.
Which gives Riley Shaughnessy a lot to prove
Entertainment reporter Savannah Daly is completely unfazed by pretty-boy rock stars. She's just here to get her interview and write her story. But spending an entire month with the Shaughnessys is going to show Savannah a side of Riley she never could have guessed.