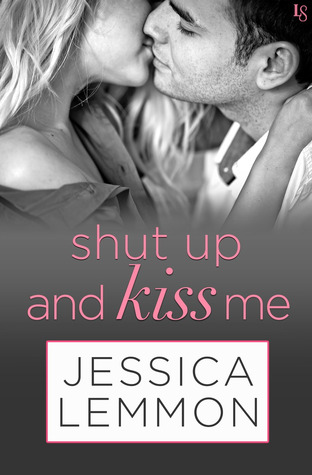 In Shut Up and Kiss Me (Lost Boys #2) by Jessica Lemmon, witnessing the accident that almost claimed Cade Wilson's life was bad enough, but endeavoring to help the gorgeous bad boy reclaim his voice is worse. Still, Tasha Montgomery is not about to give up on Cade until he's able to pursue his dreams. But first, she needs to find a way to help him overcome his stuttering, and to do that, she has the perfect plan.
"How was it?"
"It worked," I announced proudly. "He was able to speak without a stutter after the kiss. Which tells me—"
"No, Tasha." She gripped my arm and tipped her head sending her dark ponytail over one shoulder. "How was it?"
I knew that's what she was asking. I was trying to deflect. "Electric," I answered on a breath.
Cade Wilson had everything going for him until the accident that robbed him of his voice. With his dreams in tatters, he'd rather spend time working on his car than interacting with people. However, there's one person that doesn't seem to understand that he'd rather wallow than accept help. Can Tasha finally bring some good back into Cade's life, or will she disappoint him like so many others have throughout his life?
With Ms. Lemmon being one of my must-buy authors, I couldn't wait to read this opposites attract trope encompassing story, and I've got to say that it was everything I'd hoped for and more. Right from the beginning, the prologue gripped my attention immediately because of what Cade is going through and how Tasha is there for him, even though he doesn't deserve her help. Not after the way he treated her when he tried to cajole her into doing what he asked. Definitely his proposition could have been better worded, especially with such as nickname as he has.
As for the dialogue, even though I'm not a fan of romance novels that are told in the first person by both the hero and heroine, I really enjoyed this book. It was well-written and a wonderful combination of intense, due to the main characters back stories and the difficulties Cade faces with his speech; and playful due to the growing relationship between Cade and Tasha with what she's willing to do to help him. The way Tasha challenges Cade to attempt the things she asks him made me smile, and it's palpable that every interaction this couple has ups the sexual tension between them until it spills over onto the pages in nicely-detailed sex scenes. Both have been hurt by past relationships, so it isn't easy for either to trust, but it's palpable how right Cade and Tasha are for each other.
Both the main characters were wonderful, and it's hard not to feel sorry for what Cade has been through and is still dealing with. Can he overcome his speech problems? Will Tasha find a way to help him? The anger towards those that tease him and his wanting to be left alone are completely understandable. Yet, the hero is strong, brave and I liked how determined he was to get better instead of giving up when the going got tough. Indeed, Tasha is good for him. She pushes him into realizing that there's nothing he can't do, especially with what he does towards the end of this book to win her back.
While Tasha, she faces some tough challenges not only with Cade but with her father; a father that doesn't like the company she's keeping and will do anything to make things difficult for her. Yet, she's strong, brave and determined to find a way to prove that Cade has changed. That's he's not the same irresponsible, charming man who was used to getting whatever he wanted.
Why are you doing this?" I said, my voice low so only he could hear.
"You are more important than my pride, my reputation, or the chance that I could stammer in front of one hundred people who know me."
Overall, this was a really good book that just goes to show that the hero shouldn't judge the heroine on the fact that she's rich. Not all women are out to use men, and there was no doubt that Tasha accepted Cade for who he was. That she couldn't care less what he wanted to do with his future, as long as he was happy. The way this story ended was wonderful, as Cade would do anything to win back Tasha, even if meant making a little bit of a fool of himself. Not that I thought he was a fool, and instead, I thought it was endearing. There's nothing better than a hero professing his love in a big way.
I would recommend Shut Up and Kiss Me by Jessica Lemmon, if you enjoy an opposites attract trope encompassing story with secondary characters that aren't afraid to offer some much needed advice when it comes to helping this couple achieve their happy ever after.
Book Info:

 December 6th, 2016 | Loveswept | Lost Boys #2
Cade: I tried. I really tried. I should be out of this small town by now, finishing my law degree and partnering up with my buddies, but I couldn't resist one last street race. Now I'm sidelined in the hospital, and while my injuries will heal, I'm not so sure my voice will return. What kind of attorney can't talk? Yeah, exactly. I'm afraid that I won't be able to come back from this . . . until Tasha Montgomery reawakens every competitive bone in my body.
Tasha: I nearly watched Cade Wilson die on that lonely stretch of road. He's damn lucky just to be alive, even if he doesn't realize it. I know he's destined for bigger and better things, but I don't mind helping him get there as he relearns everything he took for granted. Cade's a good student, a real perfectionist; I can tell how much his stutter bothers him. But when he lets his kisses do the talking, everything else disappears. And one day, maybe he'll be able to tell me that he wants me—as much as I want him.