In This Time Next Year by Sophie Cousens, Minnie Cooper and Quinn Hamilton have a meet-cute worthy of a romance flick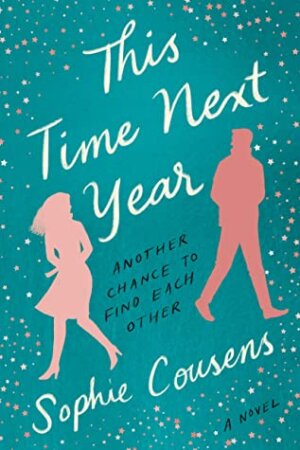 on New Year's morning but end up going their separate ways. It didn't help that she found out Quinn is the real life person who her mother had talked about for Minnie's whole life, being born at exactly the same time on New Year's in the same hospital. But it seems a birthday is all he shares with Minnie considering Quinn comes from a life of privilege and her family has always scraped to get by.
'How had her first impressions of Quinn been so wrong? This man who she'd assumed must've had such an easy life; clearly it had not been easy at all.'
Looks can be deceiving, though, as both Minnie and Quinn soon find out. Her career and romantic life aren't all they're cracked up to be thanks to her dwindling confidence. And there's a family issue he's been dealing with on his own since his childhood, making it difficult for Quinn to have a lasting relationship with women. But as Minnie finds out more about her birthday twin, she longs for at least a friendship between the two of them to help their connection grow even more. Quinn might not be a good bet to stick around long term, but with some effort, maybe they can explore what it is that destiny seems to be pushing them towards.
He tapped a fist against his chest. "From the minute I met you, you've burrowed your way in here like a song stuck in my head. I can't get you out."
"That must be very annoying," said Minnie with a little shake of her head.
"It's not annoying."
"Well, that's not a good analogy then, because getting a song stuck in your head is incredibly annoying."
"Not if you like the song."
This Time Next Year was an entertaining story about being afraid to take chances, and which had just the right mix of poignant and upbeat moments. But it was Sophie Cousens' clever, serendipitous storyline that made my heart happy.
'As he looked over at her with his warm blue eyes, she couldn't help but feel again that she'd known this man for far longer than the time they'd spent together.'
I had an absolute blast reading This Time Next Year. It was set in and around London, which is always a good time. And we had a cast who were a bit offbeat but who were charming and real enough to feel like you knew them by the ending. From Minnie's coworkers and parents to Quinn's mother, the secondary characters helped make this story shine.
It was Minnie and Quinn themselves and their own personal issues they had to sort out that was the true draw for me–as well as how their paths ran parallel so many times over the years without them knowing. Minnie was a doll. I loved her so much and thought her struggles with self-esteem were well done by Cousens, giving us genuine reasons why she felt as she did. Minnie's friendship with her BFF Leila was also wonderful. There was such care between them that you knew their relationship would outlast any bumps along the way.
Then there was Quinn. Minnie's nemesis at first, thanks to what happened the day they were born. My heart went out to him for his childhood and the responsibilities he had hanging over his head basically his whole life. He was alone in a sea of people, is what it felt like, reading the passages from his POV. And although Quinn made some blunders, he made a terrific hero with a keen sense of humor and loads of compassion. I was quite happy with how things worked out between Quinn and Minnie, though. It was rough going. I'm not going to lie. But they took a lovely friendship forged over time and built something sweet and beautiful out of it.
I don't think I've ever really smiled and happily sighed so much reading a romance as I did with This Time Next Year. Sophie Cousens is definitely an author to watch if this book is any indication of what we can expect from her in the future. Highly recommended.
Book Info:

Publication: December 1st 2020 | G.P. Putnam's Sons |
When Minnie meets Quinn at a NYE party, it's clear that they've got nothing in common – except for the strange fact of their being born in the same place at the same time on New Year's Eve. A crazy coincidence, but not a reason to pursue a friendship, and definitely not an excuse for Quinn to hope for something more.
He is a privileged party boy who believes the world is his for the taking. She is a hard-working realist, whose lack of confidence tends to hold her back.
Opposites don't really attract…it's not like this is a rom-com, right?
The clock strikes midnight, their moment passes, and another year begins. But if Quinn and Minnie are from different worlds, why do they keep bumping into each other? And why is it that each frustrating interaction somehow seems to push their lives in the right direction? Could it be that instead of clashing, their different outlooks might complement each other?
Perhaps now is the time for them to finally come together…