Playing With Trouble by Amy Andrews: Flying across the Atlantic was supposed to provide a much needed retreat for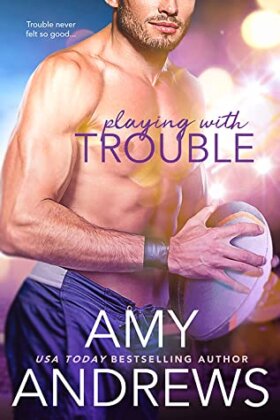 Australian pro rugby player Cole Hauser, after being a career ending accident all Cole wants is to rest, recover and figure out what he is going to do with his life now, he most certainly did not expect to be playing manny. So to say Cole is surprised to find feisty old house restorer Jane and her energy ball son Finn at the same house that he was supposed to be staying at is most definitely an understatement.
"He looked like a really wicked angel. The fallen variety. Yup. The man was freaking Lucifer. Great… Satan was sleeping in the room three doors down, and now she was staring."
This was supposed to be the project of a lifetime, restore a beautiful old house and do a prestigious photo shoot for an architectural magazine but when her unreliable ex husband flakes on his allotted time with their son Finn, Jane finds herself with a delayed project and an energetic kid that wants her attention, she most definitely did not need a former athlete thrown into the mix, especially one that makes her feel things she has no time to feel. Soon Jane finds that wanting to hate Cole becomes increasingly difficult with the way the big burly guy is bonding with her son and their once icy exchanges turn into heated kisses but what happens when reality comes knocking for both of them?
"His syrupy gaze had turned dark as molasses as he searched hers for some kind of explanation . His mouth was kiss-swollen, and he touched his bottom lip with the pad of his thumb, and it was so freaking sexy she knew if she didn't stand up and get away, she'd be back at his mouth again, demanding more."
I absolutely loved every moment of this cute single mom/sports romance. It was so easy to fall in love with Cole, he was hands down one of the cutest hero's that I have come across. I loved the way that he instantly bonded with Finn and that they formed their own little boys club. As for Jane, I was not completely sold on her at first but that quickly changed as we got to know her. I loved that she was a kickass single mum trying to do her best to make herself and Finns life perfect.
"I've been in lust a lot. I know what that feels like. It's physical. This thing I'm feeling is emotional and way deeper than my dick. It's like my chest is going to burst with it— there's just too much to contain. Lust doesn't… wreck you. It's easy, not hard. Love is hard. Love is a real prick." He grimaced. "I'm sorry. I hope you didn't want Shakespeare."
I absolutely loved the easy back and forth banter between Cole and Jane, and boy when they do finally connect it is electric! I will say that I absolutely loved Carl the chameleon and his Houdini ways. This is definitely one slow burn romance that I would recommend reading.

Book Info:

Publication: November 30th 2020 | Entangled Publishing LLC (Amara) |
From pro rugby player to…Manny?
Australian rugby pro Cole Hauser has had enough of speculations about his future post-injury. So when a football buddy puts his house in America at Cole's disposal, he jumps at the chance for some peace and anonymity. The plan is perfect—until he discovers he's roomies with a woman who knows how to wield a nail gun and her kid. Awesome. Not.
Single mom Jane Spencer is supposed to be spending four weeks alone in the wilds of Colorado rehabbing a house that'll put her business on the map. Instead, her time is overrun by her four-year-old and a grumpy, too-sexy rugby dude whose only goals are to watch ESPN and brood. Awesome. Not.
When, surprisingly, McHottie offers to get his ass off the couch and help Jane out with Finn, she's hesitant. But before she knows it, Cole is knee-deep in kid activities during the day and they're both fighting their simmering attraction at night.
Anything between them can only be temporary – their time together is short and Cole lives on the other side of the planet. It should be easy to say goodbye, right? Wrong. It doesn't take long for them to realize they've borrowed a whole lot of trouble.
But trouble never felt this good