Thoughtful (Thoughtless #1.5) by S.C. Stephens: If you've read Thoughtless, you know about the love triangle between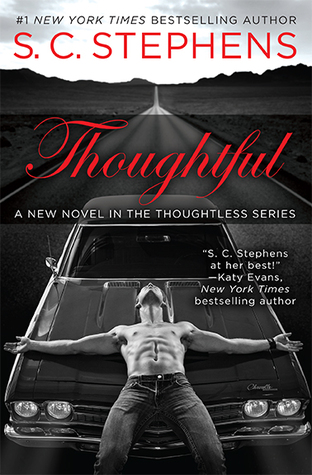 Denny, Kiera, and Kellan but there is so much more yet to learn. Kellan had a rough childhood, but the reality is so much more heartbreaking from Kellan's POV. Kellan has been starved of affection and love his entire life; he feels like he is completely unlovable and worthless. Kellan sees Denny as the only family he has left and is thrilled to have Denny stay with him after so many years.
Kellan lives for his music and the band. He doesn't have relationships, but he's growing tired of the empty one-night stands with groupies who care nothing for the man but only what to be with the rock star. From the first glance, Kiera deeply impacts him. He feels a connection to Kiera and believes that she understands him. She's one of the few people who really listen to his lyrics. While he's attracted, he willingly shoves his own attraction to the side and revels in Denny and Kiera's happiness and togetherness as a couple.
That was when it hit me. The guy was Denny. The girl I was instantly attracted to, even from a massive distance between us…was Denny's girlfriend.
Well, of course she was.
As Kiera and Denny drift apart, Kellan and Kiera become so much closer. Kellan is torn between his loyalty to Denny and his growing feelings for Kiera. It's heartbreaking to see Kellan willingly resign himself to accept only the smallest pieces of Kiera. He struggles to manage his emotions and expectations as he wants more from Kiera.
"This was supposed to be innocent, Kellan!" she bit out, furious.
"We were never innocent, Kiera. How naïve are you?" I matched her tone. She couldn't keep lying to herself.
What is most apparent in Thoughtful, is that Evan, Matt, and even Denny sensed a connection between Kellan and Kiera from the very beginning. This connection was just there and after a certain point, neither could deny the strong bond and attraction between them.
Thoughtful is a heartwrenching, emotional rollercoaster. S.C. Stephens found a way to retell this story with all the drama and angst, but with a more potent emotional impact. Ms. Stephens created some great new scenes of Kellan interacting with his bandmates. Fans of this series will love to revisit this tortured love triangle and finally see what is in Kellan's heart and mind. Fans of Beautiful Disaster and Walking Disaster by Jamie McGuire would also enjoy Thoughtful.
Book Info:

Publication: February 24th 2015 by Forever | (Thoughtless #1.5)
A new novel in the Thoughtless series from #1 New York Times bestselling author S. C. Stephens!
Every story has two sides, and in this new book, the epic love story between Kiera and Kellan is shown through his eyes.
All Kellan Kyle needs is his guitar, and some clean sheets of paper. Growing up in a house that was far from a home, he learned a hard lesson: You're worthless. Now his life is comfortably filled with passionate music, loyal band mates, and fast women…until he meets her.
Kiera makes him ache for more. Makes him feel for the first time that he's worth more. But there's one problem – she's his best friend's girl.
Just when Kellan thought his emotional defenses were rock solid, Kiera's indecisive heart wreaks havoc on his soul, changing him forever. Losing Kiera is not an option.