Three Little Words by Jenny Holiday is the third novel in her romantic comedy series, Bridesmaids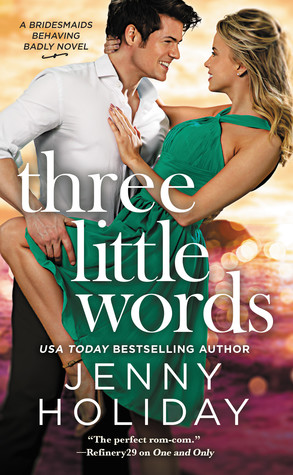 Behaving Badly. It's centered around a group of female friends and their weddings, and the whole series has been a joy to read, this one included!
Gia Gallo is turning into a 'bridesmaid-zilla'. She's desperate to get her friend Wendy (heroine of It Takes Two) her wedding dress for the ceremony in Florida by Saturday – and with six days to go, NYC is on lockdown from a winter storm. As it turns out, best man Bennett Buchanan, holder of the all important wedding rings is in the same boat. Initially meeting at the airport for their now cancelled flight and left with few options, they end up on a road trip to beat the storm and get their precious cargo to their friends on time.
In such close quarters, it's no surprise that conversations take a more intimate turn, and this only serves to deepen the attraction they have to each other. But they are very different people. Bennett had a tragic awakening to his privileged life that left him with a higher sense of purpose. Running his own Cajun restaurant, he has a goal to give back to the community that he is working towards, one day at a time. Gia is a model and aware that the clock is ticking on her career, with no idea what she will do when she's replaced by the younger, thinner set. The lurking fear of that day is driving her to make risky eating choices. Bennett has a 'no sex outside of relationships' rule he's reluctant to cross, and Gia is all about casual sex with no commitment. Can these opposites find common ground and make it to the wedding on time, with a chance at their own happy ever after?
I loved the first two stories in this series, and am not at all surprised to find that I love this one too! It's got everything I look for in a contemporary romance – intriguing all too human characters, a unique set up, plenty of laughs, and sweet and sexy (and hot!) love scenes. At first glance Gia seems like an entitled, demanding woman (especially since Bennett first meets her arguing with an airline attendant over the cancelled flight) but her desperation to get the wedding dress to Wendy on time shows her deep affection for her friends and her determination to make sure she's there for them on Wendy's special day. Bennett is more laid back on first appearance, yet when in the environs of his restaurant, he's much more demanding because he's put a lot of pressure on himself to make up for past mistakes and his goal to have his restaurant serve the community is all consuming. He's no time for casual affairs, despite Gia's signals that she'd be willing to indulge in a one-nighter. Then, stuck together in a small car speeding through one state after the other, that attraction just gets stronger.
Along the way to Florida they are both destined to face up to some uncomfortable truths, and to confront their past and current problems. Yet even though the story veers into emotional territory it never feels too heavy – laughter comes easily with sharp witted Gia never failing to offer up a keen observation or a one-liner. Their banter is fun and flirty and in no time at all, Bennett realizes he's broken Gia's cardinal rule – he's falling in love with her. He just has to convince her that pursuing a relationship with him won't be a mistake.
Bennett is a caring, observant man who sees past Gia's outside beauty to the wonderful person she is inside, and helps her realize that she has more to offer than just her looks. He's definitely got a place on my book boyfriend shelf! I'd be remiss not to mention that chef heroes are among my favorites, yet another point in Bennett's favour since he uses his talents to woo Gia, even if she doesn't realize it. Their happy ending doesn't come without compromise, and the story has a sweet series ending epilogue.If you enjoy contemporary romances by Jill Shalvis, Kate Clayborn, and Lucy Parker, you'll want to add Jenny Holiday to your reading list!
Book Info:

Publication: Jan 29, 2019 | Forever Romance | Bridesmaids Behaving Badly #3
Gia Gallo is officially in bridesmaid hell. Stranded in New York with her best friend's wedding dress, Gia has six days to make it to Florida in time for the ceremony. And oh-so-charming best man Bennett Buchanan has taken the last available rental car. Looks like she's in for one long road trip with the sexiest – and most irritating – Southern gentleman she's ever met…
Bennett's pretty sure that if there was ever a woman to break his "no flings" rule, Gia would be it. Sure, she's stubborn. She's also funny, smart, and the attraction between them is getting hotter with every state line they cross. While Bennett doesn't do casual, Gia doesn't do "relationships." But if they break the rules, this unlikely pair might discover that their impromptu road trip could turn out to be the best ride of their lives.