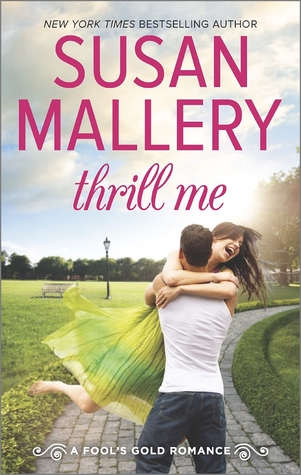 In Thrill Me (Fool's Gold #18) by Susan Mallery, Maya Farlow has grown to think of Fool's Gold, California, as her hometown thanks to the couple of years she lived there with ex-step siblings Zane and Chase. Back in town a decade after she ran away from her serious relationship with Del Mitchell, her new job helping create on-air spots to boost the town's tourism puts Maya right back in his path. She knows it's time to apologize and explain why she ran. Working with Del, though, only proves their attraction has never gone away. But can she take the leap and confess her feelings?
'The reason she hadn't fallen for anyone else, the reason she'd never found love, was because she couldn't. Del had claimed her heart and to the best of her knowledge he'd never given it back. She was, after all this time, still in love with him.'
When extreme sports pro Del took Mayor Marsha up on the chance to help with Fool's Gold promotional spots, he never thought he'd be paired up with his ex-girlfriend Maya. He's no longer harboring any anger where it's been ten years since she broke up with him. But a working relationship is all he's interested in. The only problem with his good intentions? They fly out the window when his lust and feelings for Maya come rushing back. Del isn't sure he can ever trust her again. But his heart (and other parts of his anatomy) might make that decision for him.
'He didn't want her to be someone he couldn't trust because she was everything to him. How could he not have seen that before? How could he not have realized she was his world?'
Does romance get any sweeter than those we find in Fool's Gold? I truly don't think so. Leave it to Susan Mallery to pull together two of the most likable characters and give them a reunion that is both hot-as-sin AND so tender it will make you sigh.
I love being back in Fool's Gold, my literary happy place. And for the second book in a row, some of my favorite secondary characters are playing pretty major roles: Mayor Marsha and Gladys & Eddie. Well, Mayor Marsha is always there in every story during the important plot twists, but we find out a few things about her and our favorite septuagenarians that will make you love them even more. Talk about a caring bunch of ladies. *happy sigh*
Del and Maya's second chance at romance didn't start off as rocky as I figured it would. Ten years since the last time they'd seen each other meant a great deal of growing up for them both, and they ended up working well as a business duo. I loved that there was still a strong sense of attraction they couldn't ignore, though. The scenes where they reminisced about their time together as teens, to me, really made me believe in the pull that existed between them.
So this was sort of a getting-to-know-the-Mitchell-family story, and it sounds like the five brothers will be getting their own books in the near future. They all seemed equally interesting so it should be a fun time watching them all be brought to their knees by their female counterparts. 😉 And their parents were quite intriguing themselves. Elaine and Ceallach offered up their own secrets, shocking their sons and giving us more family drama to look forward to.
Oh, and last but not least, Sophie the beagle!! How could I forget that cutie pie? Ms. Mallery included Sophie, a loving couple's real life 'fur-baby'. They took part in a Seattle Humane auction and the prize was having Sophie as part of a story. Having been the pet mom to a precocious beagle (Mandy) whom I loved to pieces, I think Ms. Mallery did a fantastic job of capturing that charming, curious and extremely loving personality the breed is known for. Well done!
Maya and Del's story was a fantastic introduction to the Mitchell clan. If the rest of the good lookin' brothers have as much charisma, humor, and loyalty as the eldest brother Del did, I think we're in for a treat with future romances in Fool's Gold.
Book Info:

 July 28th 2015 | by HQN Books | Fool's Gold #18
Meet the Mitchell brothers of Fool's Gold, California—five gorgeous men who've left a trail of broken hearts in their wake…
Maya Farlow learned the hard way to depend only on herself, so when she fell too deeply for the bad-boy charms of Del Mitchell, she did the only thing she could—she ran. Stunned, Del left Fool's Gold to make his name and fortune in extreme sports.
Now ten years later, Maya's been hired to promote her hometown's new slogan, The Destination for Romance. The celebrity spokesman is none other than Del, the man she dumped but never forgot. Awkward!
Although Del's not the type to hold a grudge, he's determined to avoid falling a second time for the woman who broke his heart. He's a daredevil, not an idiot. Trouble is, in all his adventures, he never found a rush as exhilarating as Maya's kiss. Maybe risking his heart will prove to be the biggest thrill of all…