Tiger's Claim by Celia Kyle finds Jaguar shifter Stella Moore on a mission–to destroy the man who killed her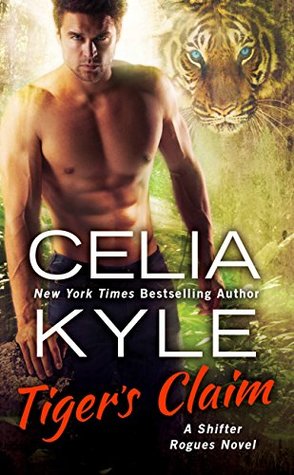 sister and caused her parents to die from broken hearts. When she goes to blow up the man's office, she doesn't expect her efforts to be thwarted by Cole Turner. Cole himself is a wealthy tiger shifter posing as a human to gain access to an anti-shifter group. When he realizes what Stella is up to, he has to stop her so his mission doesn't become compromised. To add to the matter, he realizes that Stella is his mate. Caught in the office together, they have no choice but to pose as a couple so they can each obtain their goal–taking down James Walters and other leaders of the group..
This is the second book in the series. Not having read the first book, I felt I was missing some background on the tensions between Unified Humanity, the anti-shifter group, and Shifter Operations Command, the shifter group trying to stop them. Because of this, I would recommend reading the first book before this one.
Stella is a strong character, not afraid to achieve her goal and willing to throw herself into danger even when the team tries to keep her behind to keep her safe. Cole is protective and wants to do anything in his power to save Stella the pain of having to actually kill someone. They work well together as a couple, and it was fun to watch their relationship bloom.
The book is mainly about Stella and Cole, however, there were a few chapters devoted to Grant, a teammate of Cole's, and a potential relationship. I understand trying to set up a character and a relationship for a future book, but the placing at times felt odd and didn't seem to fit, especially since there were only a few chapters devoted to Grant, and they always seemed to come out of nowhere. For the record, the chapters devoted to Grant are labeled Grant so readers will know when the character focus changes. To me, it seemed like there could have been a better way to incorporate Grant and Charlotte into the story without devoting three or four chapters of a thirty-seven chapter book to them.
The book is fast-paced and action packed. The storyline with the anti-shifter group was unresolved though, and it appears that it will be continuing on in future books. I would recommend this one to readers who enjoy paranormal and suspense stories.

Book Info:

Publication: November 27, 2018 | Forever | Shifter Rogues #2
Jaguar shifter Stella Moore has one thing on her mind – to take down the anti-shifter organization that destroyed her family. Her plans are going perfectly until a sexy-as-sin stranger throws off her game and decides the only way they can both avoid getting caught is to claim her as his girlfriend. Wait! What? Now she has to fly to a tropical island and play along because the alternative is…deadly.
Most people know Cole Turner as an uber-wealthy playboy – not as a tiger shifter who's part of a special ops team to protect his kind. Now his undercover mission has been compromised by a redheaded bombshell, and every animal instinct he has is screaming mate. To survive among so many enemies, they'll have to keep up their romantic act, find their intel… and absolutely not fall in love along the way.