In A Nurse to Heal His Heart by Louisa George, As a GP in a small English village, widower Joe Thompson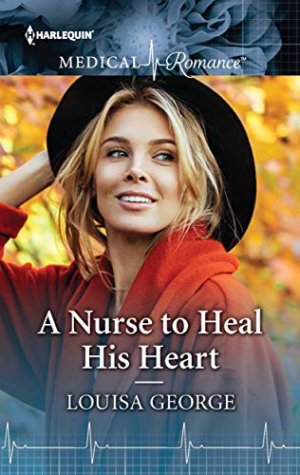 is used to taking care of everyone else. Including his beautiful daughter Katy. He'll admit that losing his wife has made him a bit overprotective of those he cares about, including his employees. But when the new locum nurse, Rose McIntyre, starts work at his practice on a day when everything falls apart–and after having met him earlier in an unflattering situation–Joe has a feeling Rose is going to alter his life forever. And Rose is pretty certain that her grumpy boss has met his match, as she's on a mission to live life to the fullest and pay forward the generosity that's recently been shown to her.
'Yes, he cared for her. It was more than lust. It was shockingly intense and yet somehow effortless and radiant at the same time…'
A book that blended together the whimsical with some heavier moments, A Nurse to Heal His Heart was a Harlequin Medical romance that charmed me with its honesty and lovely characters.
'There was no fight left in her, no reason to fight. She kissed him because she couldn't stop. Because they were entwined in something that seemed bigger than the sum of them.'
Louisa George created an absolutely wonderful little village as the setting for this book. Everything about Oakdale appealed to me, from the beautifully described scenery to the lively people we met. It was a great backdrop for a romance to begin and for two people to finish healing their hearts after tough experiences in their recent past.
Joe and Rose were pretty much opposites on paper. But they had a few more things in common once they got to know each other, something that the locals noticed as well and ended up trying to push them together because of it. I loved Rose's sense of humor and her wish to live life the fullest after what she'd been through. And she brought the same out in Joe who started off like a grumbly Viking whom she compared to Thor. (lol) They had fun chemistry together and even though things turned pretty intense and complicated towards the last third or so of the book, Rose and Joe never lost that spark between them.
Joe's daughter Katy and a bunch of the locals made for a great addition as secondary characters. They all had such different personalities that it enhanced Rose's experience in a new town and grounded Joe with how strong a sense of community he felt because of them all. Something that I love most about small town romances and something I think Louisa George did a great job with here. *sigh* Definitely recommended.
Book Info:

Publication: Published December 17th 2018 | Harlequin Medical |
She makes him feel alive again…but can he heal her heart too?
Joe Thompson's priorities are his daughter and his patients. It might've earned this GP a brooding reputation, but since losing his wife romance has been off-limits… until he meets locum nurse Rose McIntyre. Her warm smile and live-for-the-moment attitude soothe a pain Joe believed would never fade. But can Joe stop Rose running from her own secrets… and find comfort in his arms?