In Racing to Love: Jesse's Soul by Amy Gregory, Jesse Frost has the life that most men dream of, fame, money, fast bikes and the looks that make every woman want to be his. But he doesn't want just any woman, he wants Emery Kincaid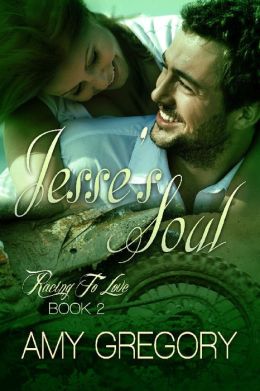 and he will not stop until he wins her over.
Emery Kincaid has been working on bikes since she was a child, she loves to fix and fiddle with them. She has suffered her own heartaches and has her very painful secret that no one knows about but her family. When the main mechanic at her father's shop leaves, her father decides to bring her in. She is the best at fixing motorcycles, but being in a business ruled by men will make her work twice as hard to earn her place.
So when she has to work closely with handsome Jesse Frost she thinks that she will be able to keep him at a distance, but their attraction and chemistry make sparks fly whenever they are together. But she will not trust her heart and her secrets to the sexy cowboy that easily.
With a lot of patience along with a sweet and caring heart, Jesse may just be able to win over Emery's love. But it will not be easy with her throwing walls and attempting to distance herself from him, even if it is a bit funny how her every attempt ends up backfiring against her.
Jesse is a hot Alpha male with enough confidence to go after what he wants and not stop until he gets it. With his sweet words and actions and his patience he will make you wish that you had him trying to woo you to his way of thinking. While Emery will break your heart with her issues, but will make you laugh with her every attempt to go against what I can now see was her fate, and will make you love this book even more.
If you want a sweet and hot read with a hot Alpha male and a vulnerable but strong heroine, Racing to Love: Jesse's Soul by Amy Gregory is the one for you.
Book Info
Publication Date: June 23, 2013
Jesse Frost lived the life most men would kill for, fast bikes, fame, money, and looks. Jesse, however, was just an easy-going guy from Texas who always worked hard for everything in life. He'd been the shy guy in school, so when the prom queen found him years later, he thought he had finally made it. Her mirage, however, left him empty and certain no woman wanted him for the simple man he was inside, until he met Emery Kincaid. With a last name that is revered on the motocross circuit she had proved herself through and through, but Emery hides the pain that runs deep, physically and emotionally just to survive. When she and Jesse are thrown together sparks fly, both from the chemistry between them, and the brakes she tries desperately to throw on. Emery is afraid what Jesse doesn't know could break his heart and hiding her true feelings for him is the only way to protect them both. If she let Jesse in and he walked away…well, that's a risk her heart can't take.