To Be Loved by You by Debbie Burns finds Ava Graham staying on her sister's couch after divorcing her cheating husband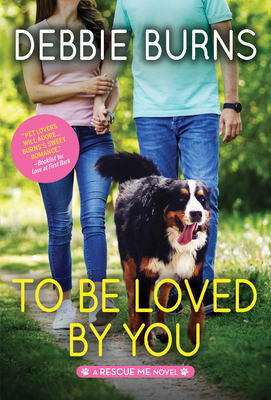 and selling the condo they once shared. She's a real estate agent, but her dream job is to be a yoga teacher. Jeremy Washington has overcome an abusive childhood, and a stint with drugs and alcohol. Now, he runs a program a to help at-risk youth, to give them the help he always wanted when he was a child. Ava convinces Jeremy that having a yoga class for the kids would be good for them. The more time they spend together, the more Ava falls for not only Jeremy, but his dog, Rolo, and the feeling is mutual from Rolo. Jeremy, however, feels he's not good enough for Ava and is afraid a relationship will have him falling into bad habits. Can Ava convince him that he's more than his past and that love is worth the risk?
This is the sixth book in the Rescue Me series. I've only read the first two books in the series, so I missed the one featuring Ava's sister, Olivia, which is the previous book. I did feel like I was missing some of the background between Ava and Olivia, as it's mentioned things had been tense between them in the past but they were working on their relationship. It's not mentioned in this book why the sisters had had a strained relationship, and I was left wondering if maybe it had been covered in the previous book. Because of this, I would recommend at least reading book number five, Head Over Paws, before this one.
Both Ava and Jeremy are wonderful characters, who only want to help the kids, as well as the dogs at the animal shelter. Their romance was a bit of a slow burn due to Jeremy's hesitation about relationships, but it works well for them, as Ava wasn't ready to just jump into another relationship after her brief, failed marriage. I liked Ava's determination to worm her way into Jeremy's life, despite his reluctance. She does it in a way that isn't pushy and allows them to become friends first.
As much as I enjoyed Ava and Jeremy, Rolo stole the show. Even though he's not classified as one, he acts like an emotional support dog. He can tell when others are stressed or nervous and does his best to comfort them. He shows no real interest in other dogs, but he's a big fan of cats and he demonstrates it by not only protecting a group of kittens that had been born in a barn, but by finding an abandoned kitten and seeking help for it. He's the star of the book, and he makes sure he becomes the star of the yoga classes as well.
To Be Loved by You has a man with a bad past trying to heal, a woman trying to find her place in the world, and a sympathetic yet funny dog who brings joy wherever he goes. It's a heartwarming story about healing, friendship, and love that I recommend to readers who enjoy romances that feature loveable dogs.
Book Info:

Publication: February 25, 2022 | Sourcebooks Casablanca | Rescue Me #6
Jeremy Washington couldn't be happier running his own therapy program for at-risk teens. Between weekend service projects and hanging out with his faithful rescue dog, Rolo, Jeremy doesn't have time to date–which is fine with him considering the mess his early marriage turned out to be. The only thing he needs now is a new project for the kids in his program, and the High Grove Animal Shelter has the perfect opportunity–a group of dogs and puppies needing foster care.
At the rescue site, Jeremy meets Ava Graham, a yoga teacher looking to expand her practice. Jeremy thinks the kids would really benefit from learning yoga, and Ava's the perfect person to help–maybe too perfect. Ava's beautiful, talented, and funny–and she has the biggest heart Jeremy has seen in a long time. But can Ava convince him that mixing business and pleasure could be the key to rescuing his heart?