You Can Run by Rebecca Zanetti is the first book in the Laurel Snow series. FBI agent Laurel Snow returns to her hometown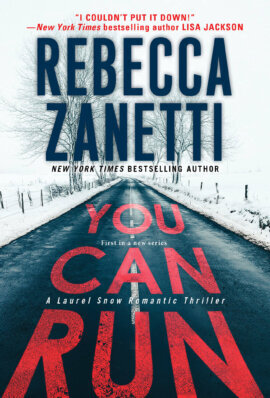 when several bodies are discovered after an avalanche. When it's determined a serial killer is on the loose, Laurel is paired up with Huck Rivers, a former soldier who is now a captain with fish and wildlife.
Huck has trust issues, as does Laurel, so neither are thrilled to be paired up with one another. They soon find themselves having no choice but to trust each other as it becomes clear the killer is closer than they thought, and he now has his sights set on Laurel.
The story is filled with twists and turns, including one involving Dr. Abigail Caine, a witness with an IQ that rivals Laurel's. Dr. Caine attempts to turn everything into a game, and Laurel finds herself engaging with her not only because she enjoys the challenge, but because she feels an unexplainable connection to the woman.
There were some things that were left hanging in this book, such as the status of Laurel and Huck's relationship, and how Dr. Caine is going to continue to integrate herself into Laurel's life, but it seems like those are things that are going to be developed throughout the series. I'm especially interested in seeing how Dr. Caine's obsession with Laurel is going to turn out because the dynamics between them are interesting.
If you've read my reviews of this author's paranormal series, you'll know that I've been enjoying that series. I was pleased to discover I enjoyed the first book in this non-paranormal series just as much. Rebecca Zanetti has a writing style that draws readers in from the first page and keeps them engaged until the last. If you enjoy suspense novels, you will want to give this one a read.

Book Info:

Publication: January 25, 2022 | Zebra | Laurel Snow #1
Laurel Snow wouldn't call hunting a serial killer a vacation, but with a pile of dead bodies unearthed near her Genesis Valley, WA, hometown, she'll take what she can get. Yet something about this case stirs her in unexpected ways. Like the startling connection she feels to Dr. Abigail Caine, a fiercely intelligent witness with a disturbing knack for making Laurel feel like she has something on her. Then there's Laurel's attraction to Huck Rivers, the fish and wildlife officer guiding her to the crime scene—and into the wilderness…
A former soldier and a trained sniper, Huck's thirst for blood is rivaled only by his fierce pursuit of Laurel. He's been burned by love, wounded by the government, and betrayed before, and to say he has trust issues is the ultimate understatement. Plus, he might be closer to this killer than anybody knows…
Once in the heart of darkness with Huck, Laurel must negotiate her distracting desire for him, her complex rapport with Abigail—and her mission to find a serial killer among a growing list of suspects and a danger that's far too close to home. So close in fact, Laurel fears she will never find her way back to the woman she once was.