Million-Dollar Mix-Up is the first book in author Jessica Lemmon's new series, The Dunn Brothers. I really enjoyed this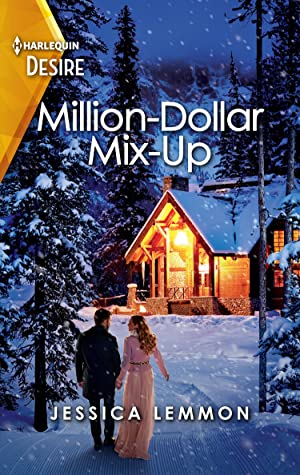 book.
Kendall Squire is a Hollywood talent agent with only one actor to represent. Her former boss gave Kendall the list of the actors he represented when he retired but they all left to acquire other agents except for former child star Issac Dunn. Issac and his twin brother Max shared a part as a child regular on a popular show which is now being produced again with the former actors, except for Max who wants no part of Hollywood. When Issac isn't available for a contracted commercial Kendall travels to Virginia to ask Max to step in as Issac once again. Max says "No" but Kendall needs this to happen. Getting snowed in is her best chance to change Max's mind.
Max Dunn left Hollywood for good after the hit show Brooks Knows Best ended. He was done living in his brother's shadow. His brother Issac loves the limelight. Max, not so much. When Issac's agent shows up at Max's cabin with her proposition to pretend to be his brother Issac for a commercial Max can't say "No" fast enough and loud enough. Then Kendall gets stranded at his cabin by a major blizzard. Max thinks Kendall is beautiful, caring, determined and stubborn and somehow Max can't resist being attracted to her. A little fling could be fun.
It has a fun storyline, very likable characters and some great steamy sex scenes. The two main characters Kendall and Max communicate so well with each other which makes their relationship very believable. Ms. Lemmon does a great job providing a fun resolution to the conflict in the story. I can't wait to read Issac's Story.
Book Info:

Publication: January 25th 2022 | Harlequin Desire | The Dunn Brothers Book 1
The ultimate twin switch leads to snowbound mischief in this Dunn Brothers novel by Jessica Lemmon.
This twin switch will save her business—
as long as it doesn't get personal…
Talent agent Kendall Squire desperately needs actor Max Dunn to leave his self-imposed retirement. As the agent for his identical twin brother, Kendall may have signed up her client to do a commercial without finalizing one tiny detail: his availability. Max would be the perfect stand-in, but when she goes to his mountaintop cabin to pitch the idea, they end up trapped by a blizzard. Soon, convincing Max to pose as his twin gives way to a much more intimate negotiation…
From Harlequin Desire: A luxurious world of bold encounters and sizzling chemistry.
Love triumphs in this uplifting romance, part of The Dunn Brothers series:
Book 1: Million-Dollar Mix-Up