To Bed the Bride by Karen Ranney is the third book in the All for Love Trilogy, but it was great as a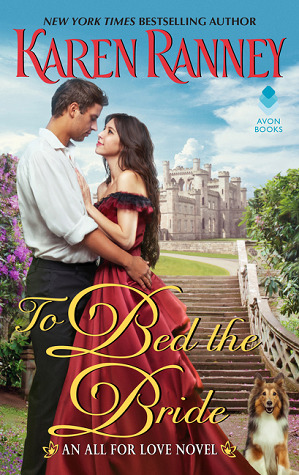 stand-alone book. It was well written, and the story flowed perfectly.
Eleanor Craig's beloved estate Hearthmere is in Scotland, but she moved to England with her cousins and aunt after her father and uncle passed. She loves Hearthmere, the Hearthmere thoroughbreds and all the family history that the house contains. Her aunt allows her to visit the estate she loves for one month a year. She has become engaged to Michael, the Earl of Wescott, and this year he has decided she can only stay for two weeks. Her aunt and cousins are thrilled with her match and defer to all of Michaels's decisions. On her ride around the estate she runs into some sheep and meets Logan McKnight and two herding dogs. Logan was fascinated by Eleanor and enjoyed goading her. He realizes that she is afraid of dogs and lonely, so he takes it upon himself to give her a puppy for companionship. Eleanor did not want the puppy (Bruce) and she tried to return it to Logan, but she grew more attached to Bruce the longer she had him.
Logan encourages Eleanor to be herself and not hide her thoughts and feelings. She realizes that she can only be herself when in Scotland and that when she is in England, she becomes silent and subdued. After they returned to England, they meet again at her family's dinner party. Logan is surprised when he learns she is engaged and to whom she is engaged too. Logan doesn't care for Michael's arrogance or political views.
As her marriage gets closer, Eleanor realizes how domineering Michael is and that she will not be allowed to visit or live in Scotland. She was shocked when she overheard Michael's conversation about selling her horses and estate. When her lawyer confirmed that her inheritance would revert to her husband upon her marriage, she knows she can never marry Michael. She informed her family of her decision and was astonished at the length they would go to ensure she married Michael. Her father had always said that family was everything and she had lived her life following those words, but after her family's treatment she realizes that their greed was larger than family loyalty.
I was enchanted by the characters in this book. Logan was such a perfect hero in this book. He was so understanding of Eleanor's feelings and constantly encouraging her to be truer to herself. He wanted her to be the strong, brave woman she was in Scotland. Eleanor wanted to honor her commitment to Michael, but slowly realizes that he would never allow her to be the strong women she was. This was a great book to read and I highly recommend it. The main characters are so loveable and perfect for each other.
Book Info:

Publication: November 26th 2019 | Avon | All for Love #3
Politics has introduced MP Logan McKnight to many fascinating people, but the lady he encounters on the lands bordering his ancestral Scottish home outshines them all. Eleanor Craig of Hearthmere seats a Thoroughbred like a queen, knows as much about world events as any of his colleagues—and is engaged to one of the worst men Logan knows. She also seems lonely, so Logan brings her a friend. Thus should their acquaintance end, yet it's only just begun.
The puppy Logan delivers is every bit as irresistible as the man himself. How could this stranger sense the isolation Eleanor suffers among her scheming, snobbish extended family and fiancé who control her life? It's even worse in London—until she begins meeting Logan secretly in a secluded park. Their passionate connection frees Eleanor, body and soul. But discovery threatens disgrace—or worse.