In Savage Hunger (Savage Trilogy #1) by Lisa Renee Jones, Rick Savage is a man with a past that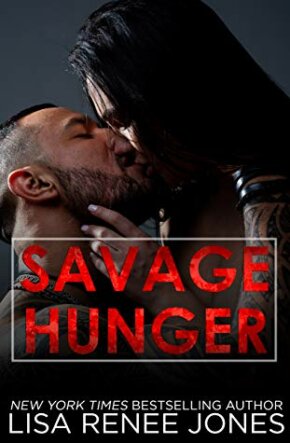 has shaped him into the weapon he is today and which still haunts him far too often. A former Green Beret, he had to leave the woman of his dreams behind when he was turned into a mercenary for Uncle Sam–something Savage wishes he never had to do. Now one of Walker Security's team of experts, he's forced to go back to Texas on a personal mission, where he once fell in love with Candace Marks. One look into her gorgeous eyes again and Savage is transported back to the time they shared together. And he knows that even as he's tracking down a killer, he's gonna do whatever it takes to atone for his mistakes, and somehow keep Candace in his life…forever this time.
"You *broke* my heart. You hurt me. *Go away* and just let me try to move on."
She wants me to let her *try* to move on. That means she *hasn't* moved on. "I didn't," I say. "I didn't move on. I have never moved on from you."
Saying that Rick Savage broke Candace's heart eight years ago is a huge understatement. He was the man she saw herself living happily ever after with for the rest of her life, only to have him cut ties with her when she least expected it. Now Rick is back in Texas. And Candace knows he's there for a reason other than seeing her and trying to make things right between them. Besides, it's too late. She's become attached to a man with big political aspirations, whether she regrets her decision to become engaged to him or not. But as Candace begins to realize just who her fiance truly is under all the charm and polite smiles, Rick is there to watch her back and try to keep her from getting pulled into the danger surrounding her.
'There is something about this man that I can't explain. Something mysterious. Something broken. Something I can't turn away from.'
Finally!!! Savage Hunger introduced us to the *real* Rick Savage–the guy behind the enigmatic, hilarious, but still scarily badass persona who has been everyone's protector in Lisa Renee Jones's many interconnected series. And oh my goodness was it well worth the wait.
'Staying away from her to protect her no longer works.'
If you've read any of Lisa Renee Jones's other series/spinoffs based in the Walker Security world then you've "met" Savage. He makes an impression, that's for sure. I've loved him since the start and I'm over the moon that he's got his own trilogy now. Which is shaping up to have an explosive plot full of secrets and intrigue, as well as all of the pent-up passion between two soul mates who were separated by outside forces. Already sounds great, right?
Savage was everything I've been hoping for and honestly a little bit more. We've found out bits and pieces about the lickable–I mean, likable guy through other novels–his background as a former Green Beret mercenary and his medical skills. But this explained how and why Savage chose the military career path he did before going to Walker Security. And I think it will shock (and sadden) some readers. It certainly did me.
That career choice, or lack thereof, goes back to Savage's ties with the love of his life, Candace. Who was a stellar heroine, by the way. They were absolutely adorable and so much fun together that it broke my heart to see how they separated eight years prior. Through flashback passages we got to watch their love story unfold and learned how it unraveled. Candace was caught up in some drama of her own in regard to her current love life, which might push a few readers' boundaries a bit. But I think LRJ handled everything as realistically as possible, considering the no-win situation Candace and Savage were in.
Note: There was a major cliffhanger at the end of this book, which is of course not unexpected in LRJ's writing. For those of you wanting to read it all at once, Savage Burn is next, scheduled to be out late February 2020; and Savage Love will finish it all up in hopefully mid to late April 2020.
A wickedly hot second chance romance about an LRJ fan-favorite hero, Savage Hunger was one wild, exciting, sexy thrill ride I can't wait to continue. Highly recommended.
Book Info:

Publication: Published December 17th 2019 | Julie Patra Publishing | Savage Trilogy #1
The first book in a new savagely intense trilogy from New York Times bestselling author Lisa Renee Jones.
Rick Savage, but they call him Savage and for a reason. He can make you laugh and then rip your heart out. No one knows that more than me, Candace Marks, the woman he left bleeding from the heart. I loved him. Lord help me, I've never stopped loving him.
Now, I'm engaged to another man, a brutal man I'm trapped into marrying, when to my shock, Savage returns home. Savage who I haven't heard from in years. I want to hate him. I have every reason to hate him, but I can't. I still love him and I fear he will save me just to leave me bleeding one last time. He stirs my desires, a dark, delicious, and dangerous man destined to hurt me and leave me. This time I'm not sure I'll survive.