To Rescue the Runaway Bride by Kelsey McKnight: Of the three Hollingsworth sisters, Claire has always been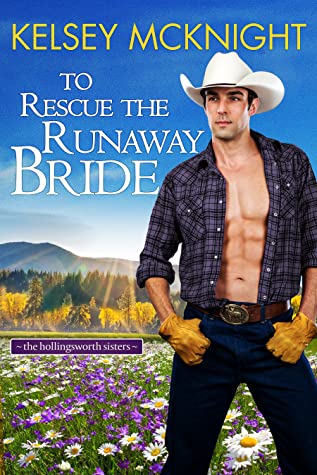 the "Perfect Princess". She has gone into the family business to please her father, not herself. She is even to marry Matthew who is be the perfect husband for her and her family's lifestyle. All the plans for a big splashy wedding are in place when Claire finds out her fiancé has cheated and gotten "the other woman" pregnant.
Claire decides she definitely needs to get away and reassess her life. She decides the best place to go is to visit her two sisters in Marietta, Montana. She makes up a sort of "bucket list" of things she needs to do before she goes back East to clean up "the mess".
While going out on a hike by herself, she takes a spill and can't get out of where she has fallen. She is rescued by Theodore Deschamps, who lives nearby at a lodge he is about to open as a resort. Because of the weather and bad roads, Claire has to spend the night at the Copper Mountain lodge. She is very impressed with the whole set-up, but even more impressed with handsome Theo.
Theo has been a Hollywood stuntman for a number of years, but decides to start a new chapter in his life in the area where he spent summers as a child. The sparks fly right away between Theo and Claire. Can Claire cross this fling off of her list or will it be hard to say goodbye when she has to leave?
Claire's father made me want to scream. How could a father write off two of his three daughters just because they wanted to choose their own paths?. It was easy to see how Claire was pushed to fit a certain mold by her domineering father.
Claire's fiance' was a piece of work. It felt like he expected her to fit his vision of the perfect wife to help him get ahead. It makes you shudder to think what would have happened if he hadn't shown his true colors before the wedding.
Theo is certainly not a Montana cowboy, but he has the manners and charm to woo just about any woman. I loved how the author included French language to make the character even more authentic .
To Rescue the Runaway Bride is a charming story with the right amount of spice. It is the third in a series. You can read it on its own, but it is even more fun to have read the other two novels to get the full effect of the Hollingsworth sisters.
Book Info:

Publication: April 27, 2021 | Tule Publishing | The Hollingsworth Sisters #3
She's ready to take charge of her future…
Accountant Claire Hollingsworth has always played by the rules, squelching her own dreams to please her father, work for her family's publishing business and play the perfect hostess for her ambitious fiancé. But when she learns he's been cheating weeks before their wedding, Claire breaks the engagement and heads to Marietta, Montana, to reconnect with her sisters and with herself. Armed with a to-do list of adventures, she's determined to break a few rules.
Théodore Deschamps is ready to start a new chapter. He left his successful career as a Hollywood stuntman to open a lodge on Copper Mountain, where he spent summers as a child. He loves nothing more than a challenge, and the strawberry blonde who literally falls into his arms promises to be his biggest one yet.
What starts out as ticking off items on her list quickly becomes much more intense. But Claire has to return to reality in two weeks, and she's not sure how, or if, she can say goodbye.