In The Summer of No Attachments (The Summer Friends #2) by Lori Foster, Veterinarian Ivey Anders has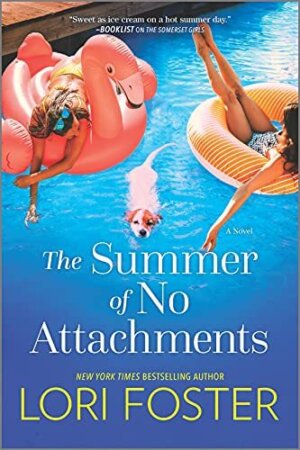 made a pact with herself to take some time this summer to actually have fun. And maybe even a fling. Having recently ended a going-nowhere relationship, she's ready for some sunshine and (fleeting) sexy times. If Ivey can talk her shy best friend and coworker, Hope Mage, into doing the same, that would be even better. Then Ivey meets single dad Corbin Meyer and all bets are off. She's head over heels before she realizes it.
'At a time when she'd thought to expand her horizons, he'd come along and shown her that she didn't need that. She needed him.'
Hope is still not very trusting when it comes to men after a traumatic event four years ago. But she really wants to try dating. Especially when she meets Lang Meyer, older brother of Ivey's new love interest, Corbin. Funny, flirty, handsome, and devoted to his family, he seems too good to be true to Hope. Lang is knocked out over Hope's strength and beauty–inside and out. Even if it means he's going to have to take things very slowly, he knows it will be worth it to see Hope happy and to show her what it's like to truly feel loved.
'Fun. She was having honest-to-God fun, and with a *man*.
In that moment, she knew a whole new world had just opened up to her. She couldn't wait to tell Ivey all about it.'
New to Sunset, Kentucky, Corbin Meyer and his ten-year-old son Justin are still getting used to their new house by the lake. Let alone each other. Because until a few weeks ago, Corbin had no idea he was a father. When his ex-girlfriend left Justin with Corbin–with very little explanation–he's not sure who was more surprised. But he instantly knows he'll protect his son with everything he has. When Corbin meets local vet Ivey, it's probably not great timing to start a romantic relationship with everything in his life so up in the air. Although, whenever Ivey is near, it feels like Corbin can finally breathe. And soon he can't imagine life without her in it.
'Funny how a man could go from never thinking of kids to loving one with all his heart in such a short span of time.'
What could be better than a new summertime read by Lori Foster? How about not one, but *two* sweet romances, a bunch of cute animals to capture your heart, and a lovable ten-year-old who brings them all together. That, in a nutshell, was The Summer of No Attachments.
'For a woman who had planned a summer without attachments, Ivey had ended up with something else entirely.'
Lori Foster never fails to bring the emotion–and the sexy!–in her books. And her new standalone, The Summer of No Attachments, definitely was a story that was fraught with intense, genuine feelings while it explored friendship and complex family dynamics. I loved that we had two best friends and coworkers, Ivey and Hope, as the heroines. They had a wonderful bond, somewhere between sisters and mother/daughter, considering Ivey was about a decade older than Hope. It was heartwarming to see how they boosted each other up anytime one of them was feeling down. And seeing how tenderly Ivey treated Hope–who had been through a personal trauma about few years before–got me all misty-eyed. There was such love and acceptance between them.
The heroes were pure Lori Foster magic. Brothers Corbin and Lang fell fast for Ivey and Hope, respectively. I got a kick out of their relationship together and how different they were in personality. Corbin was a new single dad to Justin but he had great instincts and wanted to do the best possible job raising his son. He was a hard worker who *got* people. Including Ivey. And talk about hot! Corbin and Ivey set the pages on fire with their passionate chemistry. Although it took them a while to get there, thanks to all of the growing pains of Corbin and Justin getting a routine down and simply getting to know one another. Something that Foster did in a realistic–and oh so sweet–way.
Lang and Hope were sort of an opposites attract couple. He was a bit outrageous, spoke his mind, flirted mercilessly. But like Corbin, he understood people, so Lang knew he had to be careful with timid Hope. My heart went out to her for what she endured a few years ago. Although, watching her open up and feel free to be the woman she truly was inside? Inspiring and touching. I loved both couples, but there was something so special about the time Lang took with Hope and how solid their connection was by the end. Sigh…
The Summer of No Attachments was small town romance at its finest, and a story that felt like a big old hug from a friend. I can pretty much guarantee readers will fall in love with the Meyer brothers and besties Ivey and Hope right from the first page. Highly recommended.
QOTD: Lori Foster is known for including lots of interesting animals in her books. This was definitely true here where Ivey was a veterinarian and Hope was her assistant. Do you like reading books with pets in them? Or do you think it can distract from the main storyline?
Book Info:

Publication: June 22, 2021 | HQN Books | The Summer Friends #2
Summer flings with no strings mean nobody gets hurt.
At least, that was the plan…
After putting the brakes on her dead-end relationship, local veterinarian Ivey Anders is ready to soak up this summer on her own terms. The way she sees it, no dating means no disappointment. Why complicate life with anything long-term? But when she meets Corbin Meyer—and his troubled young son, Justin—Ivey's no-strings strategy threatens to unravel before she can put it into practice.
Trust doesn't come easy for Ivey's best friend, Hope Mage, a veterinary-clinic assistant who's affected by an incident that's colored every relationship she's had. Though Hope's happy for Ivey, she can't quite open her own heart to the possibility of love. Not just yet… Maybe not ever. Soon, however, she's faced with a dilemma—Corbin's older brother, Lang. He's charming, he's kind…and he may just be the reason Hope needs to finally tear down her walls.
And as the sweet summer months unspool, the two friends discover love won't give up on them so easily.