To Tame a Cowboy by Jules Bennett: Piper Kindred and Ryan Grant have been best friends since the day Piper punched Grant in the nose for calling her a liar in the third grade. Over the years, Piper has ignored her attraction to the popular rodeo rider, but that all changes when Ryan is involved in an accident less than six months after moving back to Royal, Texas. Piper's job as an EMT means she's one of the first people on the sceen, and her place as Ryan's friend means she insists on taking care of him.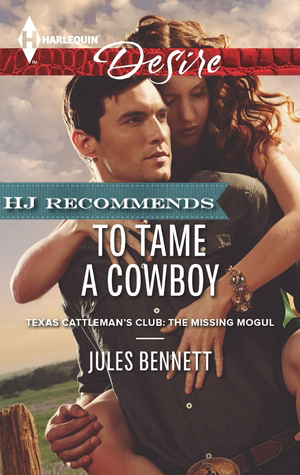 Ryan is finally retired from the rodeo circuit and has dreams of settling in for the long haul. He's bought a homestead, joined the local cattleman's club, and made plans to open a school to teach rodeo riding. The only thing missing from this picture is the woman he can't get out of his mind–his best friend Piper. Ryan knows Piper refuses to date a rodeo guy because of her experiences with her father, but he's determined to prove to her he's not getting back in the saddle. He believes that he can have something special with Piper if she'd just be willing to explore the possibility.
Ryan must have bumped his head harder than Piper thought if he thinks that she's going to risk their twenty-year friendship over a few rolls in the hay. Even though Ryan says he's settling in Royal for good, Piper's experience with men in the rodeo is that their roots are never planted deep enough that a few phone calls can't lure them back out onto the circuit. She's unwilling to risk her heart, and her friendship, by getting involved with Ryan. Yet, Piper can't help but wonder if maybe Ryan is serious about settling down. What if he is done with the circuit for good? Could Ryan really settle down? And if he did, could he do it with her?
I really enjoyed Jules Bennett's To Tame a Cowboy. This is the second book I've read in the Texas Cattleman's Club: A Missing Mogul series, and I can honestly say I like the continuity series. I am not the biggest fan of enduring cowboy trope, but I love a well written friends to lovers story, and Jules Bennett delivers a great one here. I could identify with Piper's reluctance to change her relationship with Ryan, both because they were friends and because of her past experiences with the rodeo circuit via her father. I liked that Ryan had more depth to him than that of a playboy rodeo rider. Being able to see that his feelings for Piper were genuine made it easy to root for him as he tried to break through her barriers.
The one thing I didn't like was how continuity heavy the beginning of the book was. Most of the continuing story of the disappearance of Alex Santiago was woven into the beginning of the book. While I found the developments of the continuity element interesting, I felt like the early emphasis on it took me out of getting to know Piper and Ryan initially. Every other element was spot on.
I would recommend To Tame a Cowboy to anyone looking to read a great friends to lovers story with a cowboy twist, and anyone interested in the continuing story of the disappearance of Alex Santiago.
Book Info:

HJ Recommends
Published November 5th 2013 by Harlequin Desire (Book 2264) | Texas Cattleman's Club: The Missing Mogul
A Texas Cattleman's Club tale of best friends falling in love
Royal, Texas, is the perfect place for rodeo star Ryan Grant to slow down and finally show Piper Kindred she's the woman for him. When an accident sends Piper rushing to take care of him, her sexy bedside manner suggests to Ryan that seducing his best friend will be easier than he'd expected.
But Piper knows the lure of the rodeo circuit—and the risk of a broken heart, when Ryan realizes he's not ready to hang up his saddle for good. She can't let herself fall for a cowboy. If only her heart would listen!