In Hard As It Gets (Hard Ink #1) by Laura Kaye, Nick Rixey wanted to forget the name Merritt after his mentor and former commander ruined his career. But a year after it all went down, Merritt's daughter Becca pleads with Nick to help her locate her missing brother Charlie. Somehow Charlie ran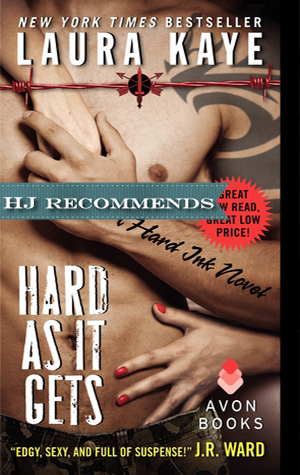 across information that put him in harm's way. He managed to send her a message, telling her to get Nick's help.
'Everything was dark and heavy, saddling him with the bone-crushing weight of guilt and regret and wants never to be fulfilled. But Becca was just…sunshine, warm and life-giving.'
Nick doesn't have any inclination to help the traitor's family, although he can't stop thinking about the desperate look in Becca's eyes. He doesn't know why but he feels the need to protect her. Little does he know that a boatload of trouble is heading their way once he begins to help her find Charlie. With some of the nastiest criminals in Baltimore after them, the race is on to keep Becca safe, find Charlie, and maybe clear up the issues surrounding his final mission in the Army.
"Just tell me where you want me, then."
"In my bed." His eyes went molten.
So boldly stated, the words dragged over her skin and heated her blood. "I set myself up for that one, didn't I?"
It was the closest thing to a real smile she'd seen from him. And it was lethally sexy.
Becca Merritt has lost too many family members over the years to give up on finding her brother. He's all she has left. Heeding the message he sent to go to Hard Ink tattoo shop and speak with Nick Rixey didn't go the way she hoped. Then Nick changes his mind and they begin to work as a team to piece together what happened to Charlie. Becca can't ignore the spark of attraction she feels for battle worn Nick but knows she should stay focused on the task at hand. When the danger closes in on them both, she realizes it's too late…she's already fallen for the handsome hero.
'Despite how recently they'd met and how much they still had to learn about one another, her soul looked at this harshly beautiful man and thought, mine.'
Hard As It Gets is the sexy-as-hell first novel in the new Hard Ink series by Laura Kaye. Filled with alpha men, a courageous & beautiful young woman, and a three-legged puppy, who could resist their story?
I'm a little embarrassed to say this is my first Laura Kaye novel. I'm wondering how I've never read anything she's written before, now that I look at her backlist of books! I am truly impressed with her writing style. She gave us a solid, well-thought out plot and strong characters to back it up. They were also pretty easy to relate to, even with all of the drama and suspense swirling around them.
Nick and Becca were one of those couples that, to me, just seemed meant to be. They were both such honest, loyal, caring people who fight for those they love. I especially loved that given their situation, Becca and Nick acted like adults instead of getting all angsty when something didn't go their way. They may not have been able to deny their intense attraction to each other, but they didn't let their emotions rule their actions. I felt like how they handled things was more realistic than some stories out there.
There was a great mix of emotions in this story. Some of the funny "tension-breaker" type moments were utterly hysterical, and I can just see a bunch of ex-military alpha guys laughing it up to relax before they have to refocus on the problems at hand. The tension between Nick and his team was described very well, as if the animosity between them had a life of its own. And all of the action scenes were paced well, with just enough detail to keep me hooked.
I highly recommend Hard As It Gets if you like your romance with some high octane action. I'm really looking forward to book two: Hard As You Can, which is Shane's story and will be out in February of 2014!
Book Info:

HJ Recommends
Published November 26th 2013 by Avon | Series: A Hard Ink Novel #2
Tall, dark, and lethal…
Trouble just walked into Nicholas Rixey's tattoo parlor. Becca Merritt is warm, sexy, wholesome–pure temptation to a very jaded Nick. He's left his military life behind to become co-owner of Hard Ink Tattoo, but Becca is his ex-commander's daughter. Loyalty won't let him turn her away. Lust has plenty to do with it too.
With her brother presumed kidnapped, Becca needs Nick. She just wasn't expecting to want him so much. As their investigation turns into all-out war with an organized crime ring, only Nick can protect her. And only Becca can heal the scars no one else sees.
Desire is the easy part. Love is as hard as it gets. Good thing Nick is always up for a challenge..