In To Tame a Wild Cowboy (Cupid, Texas #7) by Lori Wilde , As a star bull rider in the PBR, Rhett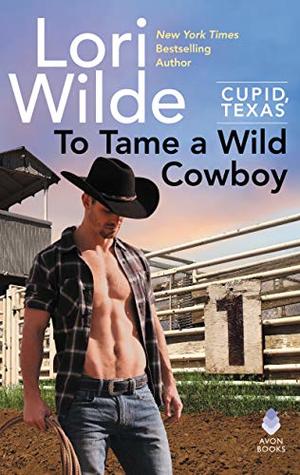 Lockhart has worked his entire adult life to win the championship. And it looks like this might be his year. His winning streak is tempered when he gets the unbelievable news that he's a father–and that his four-month-old daughter Julie was abandoned in the hospital just after being born. It's taken months in the NICU for her to be healthy enough to leave. Rhett finds out it's his former childhood acquaintance Tara Alzate, a NICU nurse, who is fostering Julie. And who wants to file for adoption. Not sure if he should sign away his rights or stay and become the kind of father he never had, Rhett makes the decision to meet Julie and talk it out with Tara. He just didn't realize he'd fall hard and fast for them both.
'The baby was in his arms, looking up at him. Her big blue eyes wide with curiosity…
Their gazes met. Held.
Then she did the most amazing thing. She reached out a little hand, curled it around his pinkie finger, and went back to sucking on the bottle.
…Walking away was no longer an option.'
Tara has never felt so attached to one of her tiny patients before stepping in to watch over Julie. And after the losses she suffered a couple of years ago, Tara hopes she's found something good she can have in her life. But when she's told that Julie's father is none other than reckless, ladies' man Rhett Lockhart, she knows her luck might have run out again. She can't imagine he'd give up his career to become single dad. Although, Rhett surprisingly takes things quite seriously. When a marriage of convenience gets thrown in the ring as a way to make sure Julie stays in the family, Tara thinks about taking the plunge, even though she knows the wicked attraction she has with Rhett will only make things more difficult.
'The changes in him since he'd discovered he'd had a daughter were unequivocal. The playboy rodeo star had finally grown up. His only concern was for his daughter. Tara admired him more than she could express.'
To Tame a Wild Cowboy was a seductive slow burn romance between a sexy rodeo star and a lovely NICU nurse with tons of history together. Complicated, passionate and yet tender, this latest meant-to-be pairing in Lori Wilde's Cupid, Texas series was a complete knockout.
"You really do love her, don't you?"
Her dark eyes drilled straight into his. "You have no idea."
"Thank God for you," he said, emotions sprouting everywhere. "I'm so glad you were there for her when I couldn't be."
"Me too."
"I can never make that up to you, Tea."
I've been a fan of Lori Wilde's work for years, with her hotter than sin cowboys and the beautiful, feisty women who take them down a peg or two. (lol) And this Cupid, Texas series really showcases her unique characters so very well. I love that there was a shared background between Tara and Rhett in this book; that they already had a rather complex history thanks to her parents being a huge part of what made his father's ranch become the success it is to date. I thought it made for a bit of interesting tension between Rhett and Tara, where there was some old animosity there, but also some niggling attraction that had never been explored.
Without giving too many surprises away, the storyline was a pretty involved one. King of the one-night stand Rhett had no idea he had a baby girl fighting for her life in the NICU, or that Tara was the nurse who was there with her every step of the way after the baby's mother abandoned her. Their history made it both easier and yet so much more difficult for Tara and Rhett to work out where sweet little Julie would end up. They both had their own reason for wanting custody of her. And the fact that they had sizzling attraction was another complication for them. Particularly Tara, who couldn't get past Rhett's penchant for casual flings, which, her attitude did bug me a bit. But Wilde did a fantastic job with the twists she threw at Rhett and Tara, as well as the character growth they eventually both showed. Especially watching Rhett fall head over heels for his baby and buckle down to become a wonderful dad.
The fun bantering along with some truly intense emotions (plus a super hot cowboy!) made To Tame a Wild Cowboy one of my favorites of the Cupid, Texas series so far. It had the perfect blend of heat and heart as well as a terrific feeling of family and coming home. What's not to love, right?
Book Info:

Publication: Published May 21st 2019 | Avon | Cupid, Texas #7
What would it take to tame a wild cowboy?
One minute, Rhett Lockhart is a love 'em and leave 'em bull rider with a slow, sexy smile, a swagger, and not a care in the world. The next, he learns his free-wheeling days are over: a baby has been abandoned in the hospital, and there's no question: he's the father. But from the first moment he gazes into his daughter's eyes, he knows the moment has come to say 'no' to no-strings. It's time to grow up.
Standing in his way is the baby's foster mother, Tara Alzate, who doesn't quite believe Rhett is ready to change his ways. Still, she's not not immune to his considerable charms. So when he proposes a marriage of convenience and shared custody, against her better judgement, she says "I do." Can Tara tame this wild cowboy and make her own, long-buried dreams come true?