Today, HJ is pleased to share with you

Kendall Ryan's

new release: 

The Two-Week Arrangement

Dear Sexy AF Intern,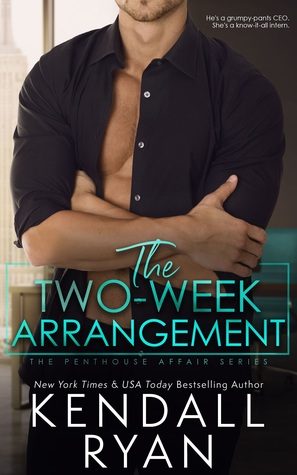 I know you don't particularly care that I'm the CEO of this company, and you're just an intern. I also know you're not impressed by my power or my wealth, and that's fine.

You think you've got me all figured out from working alongside me for two weeks, but you don't know me. Not really.

You don't know that I'm a single dad to twin toddlers, or that those two little girls matter more to me than this entire hotel chain.

I'm not interested in starting something deep and meaningful, but what I am interested in is the way your body reacts to mine when we're in the same room. You probably assume the concentration on my face is work-related, when in reality, I'm figuring out which I want more–to nail you against the wall, or to bend you over my desk.

While you're too disciplined to act on it, I'm not. And the night you stepped into my limo, all bets were off.
Enjoy an exclusive excerpt from The Two-Week Arrangement 
"Just because we're sharing a bed doesn't mean that we're sharing our lives."

Sharing a bed? Why didn't it occur to me that there was only one bed? Or that we'd be spending the night in it together? Well, that's going to be one hell of a cock tease, complete with my least-favorite bedtime story ever, Goodnight Hard-On.

"Well, you're welcome to the floor, if you'd prefer," I say, flashing her a smile.

She scoffs and swats my arm. "No way."

That little move has her wobbling a bit, so I steady her with one hand. I lean in so my words are a whisper in her ear.

"In that case, I promise to uphold your purity." I squeeze her arm slightly, noting the goose bumps rising on her skin.

She leans back a little to meet my eyes. Searching.

"I'm not so pure," she says in a low voice, and fuck if I don't feel all my blood rush from my head into my sorely neglected cock. "I've done things before."

"Makes sense. Men must be lining up," I say, fighting off a smirk.

I'm not sure if it's the alcohol, her proximity, or Oliver's words finally getting through to me, but suddenly, I don't want to hide the attraction I have for her. It's not like she didn't feel it when she was splayed over my lap earlier today, my dick hard against her warm center. And for some reason, when I'm with her, it's easy to forget she works for me.

"So what if they are?" she asks with a playful look, her head tilting.

The dim light of the overhead fixture catches her eyes, and I'm struck speechless for a moment. She's beautiful. Stunning, even.

"What are you waiting for, then?" My mouth is just inches from hers now. There's no more eye contact, just the connection of our mingling breaths.
Excerpt. ©Kendall Ryan. Posted by arrangement with the publisher. All rights reserved.


Giveaway:

eBook copy of The Two-Week Arrangement
To enter Giveaway: Please complete the Rafflecopter form and post a comment to this Q:

What did you think of the excerpt spotlighted here? Leave a comment with your thoughts on the book…
Meet the Author: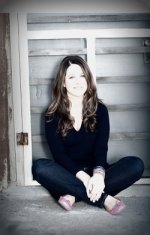 A New York Times, Wall Street Journal, and USA Today bestselling author of more than three dozen titles, Kendall Ryan has sold over 2.5 million books and her books have been translated into several languages in countries around the world.
Her books have also appeared on the New York Times and USA Today bestseller lists more than 70 times. Ryan has been featured in such publications as USA Today, Newsweek, and InTouch Magazine.
She lives in Texas with her husband and two sons.
Visit her at: www.kendallryanbooks.com for the latest book news, and fun extras.
Subscriber to the newsletter: http://www.kendallryanbooks.com/newsletter/
Facebook: https://www.facebook.com/kendallryanbooks
Instagram: https://www.instagram.com/kendallryan1/
Twitter: https://twitter.com/KendallRyan1
Pinterest: http://www.pinterest.com/kendallryan1/
Goodreads: https://www.goodreads.com/author/show/6473923.Kendall_Ryan
Amazon: http://www.amazon.com/Kendall-Ryan/e/B009FNTHMK/
BookBub: https://www.bookbub.com/authors/kendall-ryan

Buy:
Amazon ➜ https://amzn.to/2TSsprU
Apple ➜ https://apple.co/2CXljMS
Nook ➜ http://bit.ly/2HVxOgl
Kobo ➜ http://bit.ly/2HZm50a
Goodreads ➜ http://bit.ly/2FN4Yv6