To Wrangle a Rancher by Kelsey McNight: Olivia Hollingsworth has worked hard for a long time in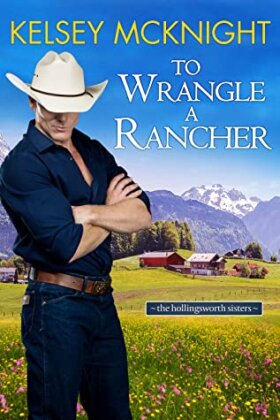 her family's business, Hollingsworth Publishing. She was sure she would get the promotion to VP. Instead her father shows he is a true male chauvinist by giving the position to her incompetent cousin, just because he is a man.
Although she is stung, Olivia decides to takes her talent to try to revive the home improvement magazine her late grandmother started by writing an article while renovating her grandmother's home in Montana.
Olivia has warm memories of childhood visits to Montana and wished she had not let her work keep her aways in more recent times.
Kit Granger has his own "daddy issues". His father's drinking and other bad behavior has caused Kit having to sell off parts of the big ranch that has been in his family for many generations.
Olivia's and Kit 's first meeting gets off to a bad start. She is upset that he has some of his cattle on her land and doesn't realize her Grandmother allowed that in return for Kit being a caretaker. Kit sees Olivia as a spoiled rich heiress. Can the two be more than frenemies?
I had forgotten how much I missed reading cowboy stories until this fabulous novel. Linda Lael Miller's books were my favorites. Kelsey McKnight's To Wrangle a Ranch is right up there with those in quality.
Olivia may be rich, but she has given up a lot of her personal life in pursuit of career and position. It is good that the author did have some women she was close to, including her sister, Molly.
I liked that Kit was strong, but still had a tender heart that he tried to protect. He is fortunate to have the support of people in the small town of Marietta, Montana.
The setting of Montana is just right for a cowboy story and the descriptions of the area around Marietta sound just lovely. I don't think I would be tough enough to live year round there.
To Wrangle a Rancher is for readers who like more sizzle and steam in their romance. The book is first in a series. I will look forward to the second in The Hollingsworth Sisters saga.

Book Info:

Publication: February 18, 2021 | Tule Publishing | Hollingsworth Sisters #1
They may have more in common than they ever imagined…
Olivia Hollingsworth is shocked when she's passed over for VP at Hollingsworth Publishing in favor of her do-nothing cousin. She's worked harder than anyone and decides to take her talent elsewhere—restoring the failing home improvement magazine that her grandmother loved and her father is axing. Olivia heads to Montana with a plan and a tight timeline…until she comes face-to-face with a sexy as sin cowboy who just might out-stubborn her.
Kit Granger's family has lived on the same Marietta cattle ranch for generations. But his father ran their business into the ground, leaving Kit to sell off parcels of land to slowly rebuild his family legacy. For years he's had an agreement to graze his herd on Hollingsworth property in exchange for caretaking duties. And then the eldest Hollingsworth arrives. Her first demand? Corral his cows.
Kit's not about to let a beautiful heiress derail everything he's worked toward without a fight. Can they reach a compromise so that they both win without falling in love first?