In the Dark by Jackie Ashenden is the first in her Playing for Pleasure duet. It's the story of a woman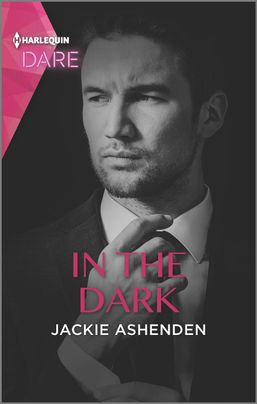 getting her long desired fantasy fulfilled.
When Vesta takes her friend Maggie's place at a Company of Strangers escort service night, she's hoping an intimate night with a stranger will help her get over her long held crush on her brother's best friend Eli (plus, she needs the money). She's still a virgin but the word is that the man who has set up the meeting with Maggie gives excellent orgasms, and she's hoping she can entice him to help her get rid of her virginity too.
Scarred from a fire, reclusive billionaire Elias Hart only spends time with women on a one time basis, where they wear a blindfold and don't recognize him and aren't looking for anything other than a night of pleasure. But his world is rocked when the woman he hired for the night has been replaced with Vesta, his best friend's younger sister. He's ghosted her ever since the fire and even without seeing her for several years, it doesn't take long to recognize her. She doesn't know who he is with her blindfold on, and while he'd always seen her as a child to protect, it's clear she's all grown up and willing to do whatever he asks of her. And he wants everything. But will one night between 'strangers' stoke a passion unable to be denied?
As always, Jackie Ashenden brings the heat and the sexual tension to the start of her new duet. It all takes place over one night in one setting (though there is an epilogue that shows the couple later down the road) so she relies on the characters to draw the reader in as Eli and Vesta go through a night of discovery about themselves – their memories, their fears, and their desires. It's not an insta-love story but a chance for both of them to discover what they want for the future – and that future will be one that is shared. The reader learns a little bit about Vesta's brother (who is Eli's business partner) and I'm looking forward to reading his story. In the Dark is an absorbing and sexy read.

Book Info:

Publication: Feb 01, 2021 | Harlequin Dare | Playing for Pleasure #1
My billions can buy me anything…but they can't stop the women who beg for my touch from cringing at my scars. That's why the blindfolds never come off… In the dark, I can be the golden athlete I was—before the part of me that cared about others was burned away.
When I recognize the striking woman in my hotel suite, I know I should send her packing. But my best friend's little sister has grown up in the most enticing way since I disappeared from her life ten years ago. And I don't want Vesta going to some other "stranger" to lose her virginity. As long as she keeps the blindfold on, I can give her the pleasure she craves…
But the touch of Vesta's skin, her plush lips and taut body drive me wild. And her fierce nature stirs unwelcome emotions. Vesta is marking my scorched soul as her own. But when the mask comes off, will she run from the beast whose heart she now holds in her hands?