Together Again by Peggy Bird is a spicy, suspenseful romance with a complex and exciting plot. It is a quick, fast-paced read that is difficult to put down. This book is the first I have from this author and it certainly won't be the last.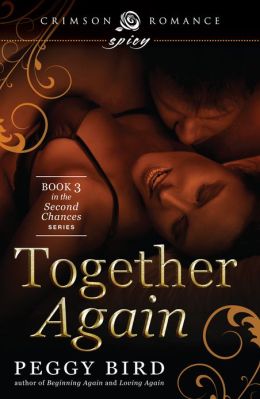 Margo Keyes grew up in Philadelphia. Due to her father's imprisonment, she left the city in a hurry and attended college on the West Coast to escape the scuttlebutt that was encompassing her life. After law school, she moved to Oregon and found success as Portland's Deputy District Attorney. Margo's life is controlled and organized, but she thinks about her "kind of" romantic friend Tony, when she is lonely.
Handsome, hot, Philadelphia Detective Tony Alessandro lived next door to the Keyes' family during his childhood. He crushed on his former neighbor Margo for many years. His loving family keeps him grounded, especially when his job of solving crimes takes over his world completely.
Due to the timing of an unexpected trip to Philadelphia, as a substitute presenter for her boss at a law enforcement convention, Margo and Tony become reacquainted. Feelings begin to resurface and eventually ignite. The old sparks were just waiting for a little kindling.
Margo's plane ride to the East Coast is uneventful, with the exception of a run-in with a passenger. Unbeknownst to Margo, this passenger is involved with murder, the Russian mob and intellectual espionage. Law enforcement agencies on both coasts end up getting involved and Margo is the bait. Tony will do everything in his power to protect her, which is a difficult task because she is so used to her independence and self-reliance.
If you are seeking a hot, steamy romance with a bit of intrigue, this one is for you!
Book Info
Publisher: Crimson Romance (January 14, 2013)
Deputy DA Margo Keyes is looking forward to this trip with as much enthusiasm as she'd have for a root canal. There's the Philly summer heat, the high school reunion she'd rather avoid, and the speech she'd be giving as a last-minute stand-in for her boss. Mostly there's facing high school crush Tony Alessandro. When she'd last seen the Philly cop, he'd danced her out of his sister's wedding reception to a dark room where he'd kissed her senseless. If his nephew hadn't interrupted they'd have . . . well, who knows?
Tony had disappeared on some family errand. She went home to Portland, Oregon the next day. She hadn't heard from him since.
However, her homecoming turns out better than expected. The reunion and the speech work out. Even better, when she and Tony pick up where they left off in that dark room, the only heat that's unbearable is what they generate in bed.
Margo returns to Portland wondering if she and Tony have started something she might not be ready for, relieved she's put a whole continent between them to give her breathing room to sort it. Then his work with a federal task force investigating industrial espionage brings him to Portland. And an accidental swap of messenger bags on her flight home puts her in the middle of the investigation.
Tony wants her out of the way of the bad guys and focused on him. She wants to use a secret from her past to wrap up the case. And maybe avoid having to think about what's happening between them.
They can't both win. Or can they?
Sensuality Level: Hot