In Too Wilde to Wed (The Wildes of Lindow Castle #2) by Eloisa James, Lord Roland Northbridge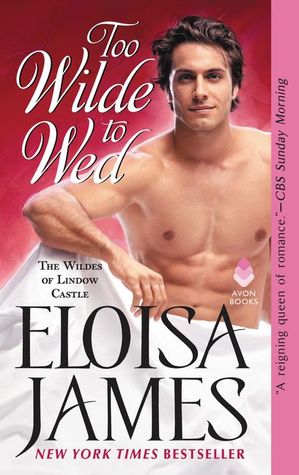 Wilde, aka North, left England two years ago after buying a commission to fight the war in the colonies. Leaving his home, he was still smarting after being basically discarded by his fiancee, Miss Diana Belgrave, with no reason and no warning. Now returning to Lindow Castle, North had no idea that his name has been dragged through the mud in his absence. It seems all of Society believes he took advantage of Diana in the worst of ways. Little does everyone know that it was he who was torn apart after her desertion. But encountering her as the current governess in his home, well, that brings his attraction to Diana thundering back, leaving North ready to do whatever it takes to prove himself worthy of another chance.
'She had been *his*, for a short time. He had believed she would be his for life, and it was a hard idea to shake.'
Diana's life up to this point has seemed like a series of choices that have been made for her. So working for a wage as a governess for the Wilde family in their home is the first time Diana has felt independent, proving her self-worth in some way. But she had no idea that her choice to take in a baby in need and treat him as her own would cause such a fuss among the gossips. And the whispering will only get worse when she realizes her former fiance is returning from the colonies. From dandy to a war-wizened man, North is nothing like Diana remembers. Gone is the high fashion and the lectures on becoming a duchess and in its place is a man with torturous memories haunting him from the battlefield. Diana knows she is not duchess material, regardless of her upbringing. But she's not entirely sure she can keep putting off North's advances and his frequent admissions of his feelings for her.
'The emotionless duke-to-be was gone. Looking back at her was a man whose eyes were turbulent and full of desire.'
A jilted hero. A flighty but well-meaning heroine. A huge, raucous family. And even a testy peacock (or two…). Eloisa James' setup for Too Wilde to Wed was as entertaining as it was emotionally involved.
Taken from Beatrix's Babble — 'Mothers should take care: This particular Wilde is, by estimation, Too Wilde to Wed!'
Too Wilde to Wed really was a fun read, although I did struggle a bit with some of it. Overall, though, this was as well-plotted out as I would expect from James and of course had some nicely placed references to Shakespeare as well. This was an easy romance to read with lots of intriguing, eccentric characters to chuckle over. And I liked that there was an easy flow to each passage so it was truly a pleasure to see the cast interact and then see where their actions would lead them.
I'll admit to having a tough time cheering on our heroine Diana. She was impetuous, naive, stubborn, often flighty. But at the same time she was kind and caring, and even fairly selfless. I didn't agree with Diana's decisions most of the time, although we did eventually find out where her ideas came from and why she made some of the choices she did. So it wasn't until later in the book when I finally connected more with her.
Our hero North took a shorter time for me to warm up to as I figured out where he was coming from quicker for some reason. He was kind of a tortured hero after his time in the colonies during the Revolutionary war, commanding soldiers and seeing firsthand the atrocities there. He didn't necessarily want to resume being the heir to the dukedom upon his return home, but North was a standup guy and took his responsibilities seriously. I liked that he was the one who was more sure of his feelings where Diana was concerned and that he–although he did show a lot of emotion–was the more stable, grounded one. It seemed realistic in their situation.
With a nice blend of laughter, sultry moments, and family drama, Too Wilde to Wed was a solid addition to the Wildes of Lindow Castle series. And I have a feeling with the teaser at the end, depicting Diana's cousin Lavinia on the brink of major changes in her lifestyle, things will likely only get more interesting with our next installment.

Book Info:

Publication: May 29th 2018 | Avon | The Wildes of Lindow Castle #2
The handsome, rakish heir to a dukedom, Lord Roland Northbridge Wilde—known to his friends as North—left England two years ago, after being jilted by Miss Diana Belgrave. He returns from war to find that he's notorious: polite society has ruled him "too wild to wed."
Diana never meant to tarnish North's reputation, or his heart, but in her rush to save a helpless child, there was no time to consider the consequences of working as a governess in Lindow Castle. Now everyone has drawn the worst conclusions about the child's father, and Diana is left with bittersweet regret.
When North makes it clear that he still wants her for his own, scandal or no, Diana has to fight to keep from losing her heart to the man whom she still has no intention of marrying.
Yet North is returning a hardened warrior—and this is one battle he's determined to win.
He wants Diana, and he'll risk everything to call her his own.