In Saving the Single Dad Doc by Louisa Heaton, having someone take over from him at the town medical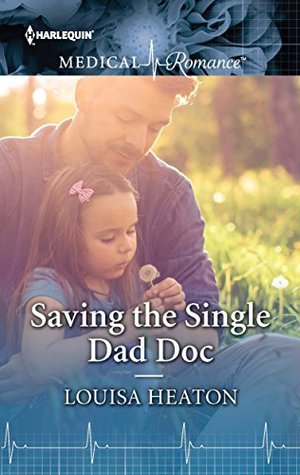 practice is the best option for Dr Cameron Brodie, especially if he wants to spend time with his daughter before his illness takes his life. Luckily, Dr. Bethan Moore has returned to her hometown and is looking for work. She's the perfect solution and not just for the practice, but for him too. Will Cameron and Bethan fight for their happy ever after or will Bethan lose another person she loves?
"It'll be okay. Dr. Brodie is a very nice man!"
"Impossible! Brodie men are the worst."
"Not this one. He's different."
Nanna pulled back to look at her. "You believe that?"
She smiled. "I do. What happened between you and old Angus Brodie is ancient news."
What a very entertaining and emotional tale Ms. Heaton has penned in this medical romance where Cameron and Bethan's families have quite the history between her grandma and his grandfather; the dialogue was attention-grabbing and drew me in immediately, especially once the hero and heroine meet because I really wanted to know whether they'd be able to get along or whether the history between their families would prevent that; and the obstacles these two face together are tough due to what's happening with the hero and whether he'd be all right.
As for the dialogue, it was intense due to the main characters back stories, as Bethan has already lost someone important to her and going through that again wouldn't be easy. Yet, she isn't about to let Cameron go down without a fight. Now, with the main characters, I absolutely loved the main and secondary characters, even the hero's grandfather who is a bit grumpy and treats her rude the moment they meet. However, I liked that she knew how to handle such a man and didn't put up with any of his meanness. Moreover, the heroine really surprised me. She's good at her job in being kind and caring and making patients comfortable in her presence. She's also resilient, courageous and I liked her determination to help the hero once she learns what's going on with him and how serious his illness is. Will her efforts pay off? Yet, what I liked most of all about the heroine was the tight bond she shares with her family. Her grandma is such a hoot and knows how to hold a grudge. Can Bethan and Cameron get her to change her opinion of the Brodie men?
"I'm sad."
"Don't be."
"I can't help it. Every time you kiss me it makes me think of what we could have."
He sucked in a breath. "You think it's going to fail. You think I'm going to die on that table."
She shook her head. "I don't want to think that. Not at all. I want this. I want you to have the operation, and I want it to be a success, but the closer we get to Edinburgh, the closer I am to sitting at the bedside of the man that I…I don't want to lose."
While the hero, he was fantastic and I love everything he goes through since he has some big decisions to make. Will he go through with the surgery? Will he fight for a future with the heroine? Furthermore, the hero was a good father and I liked that he was willing to make the most of the time he had left with his daughter. I also liked that he put his trust in the heroine and how protective he was for her, which was proven by what he was willing to sacrifice to make sure she didn't get hurt again. Yet, what I liked most of all about the hero is that meeting the heroine gave him hope that things would work out for the best. Really, Bethan is good for him.
Overall, Ms. Heaton has delivered a heartfelt and riveting read in this book where the chemistry between this couple was strong; the romance was sweet and heart-warming; and the ending had me worried for one of the main characters, but had me loving the hero's determination to make things right with the heroine, especially after what happens to cause their relationship to go awry. However, it was the epilogue that wrapped this story up nicely, as the hero and heroine are so happy together and have so much to celebrate. I would recommend Saving the Single Dad Doc by Louisa Heaton, if you enjoy the enemy to lovers trope or books by authors Sue Mackay, Annie O'Neil, Tina Beckett and Carol Marinelli.
Book Info:

Publication: June 1st, 2018 | Harlequin Medical |
Dare she dream of a future…
With Cameron and his little girl?
Returning to her Scottish hometown, GP Bethan Monroe has no idea the handsome single father she's replacing, Dr. Cameron Brodie, hides a serious illness. Bethan's healing from her own heartache, but the gorgeous doc and his young daughter bring light back into her life. Does she have the courage to give them her heart and grasp the happiness life still has in store?