Totally His by Erin Nicholas is the third book in the Opposites Attract series and just like the previous books in this series, it's a must-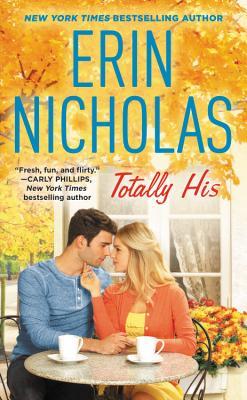 read! Totally His, is a sweet romance filled with impressive characters that will steal your heart. You will be emotionally attached to these characters, in a matter of pages!
Sophie Birch first meets Finn Kelly after her theater catches fire. She's the crazy woman in lingerie who runs into a burning building and he's the cop that has to go rescue her…not that she needed rescuing. After the fire, it's clear that her theater is going to need all the help it can get and when the Calvary comes to help, it might be more than Sophie can handle.
Sophie is best friends with Finn's mother. Finn adores that about Sophie. But he's also very put out that he hasn't met Sophie before. But after learning about her background and her views on family, he has a better understanding why his mom wants to keep them apart. Here's the thing, though, the chemistry between them is overwhelming and there is no ignoring it. As long as they are the same page, no one gets hurt. Right?
Sophie can't do the whole family thing. Even though, it's very clear that she needs it. She missed out on the stability of a family, but having a husband or kids would mean having to deal with her dad more. Her father expects Sophie to take care of him. Whatever money she has it goes to him and she accepts this, because he's all she has. But will her loyalty to her father ruin any chance she has with Finn?
I adored Finn and Sophie together and on their own. Finn is a fixer, who loves to help people. If something needs to be done, you can count on him. Despite the issues going on with her dad, Sophie is a strong heroine who is just trying to live her life. She had it rough growing up, but she works very hard at not letting it get the best of her. She's sweet, but also feisty. Overall, highly recommended. If you love contemporary romance, definitely pick this book up.

Book Info:

Publication: October 31st 2017 | Forever | Opposites Attract #3
Actress Sophie Birch is used to having to look out for herself. So when her theater catches fire and a big guy scoops her up into his arms to save her, she's going to fight every step of the way. Even if he's a cop. And really sexy. And his arms feel oh-so-good.
Finn Kelly can't help but appreciate how good the woman in his arms looks in her sexy pink lingerie. Even if she's currently resisting arrest.
But as the two get to know each other, they're both surprised by the things Finn is willing to do to get closer to her. And when Sophie's estranged father arrives in town and starts causing trouble, the stage is set for disaster…unless Finn can convince her that, for once in her life, she has someone to lean on.