Toxic by Kim Karr: Phoebe is desperately trying to hold on to her family's hotel business when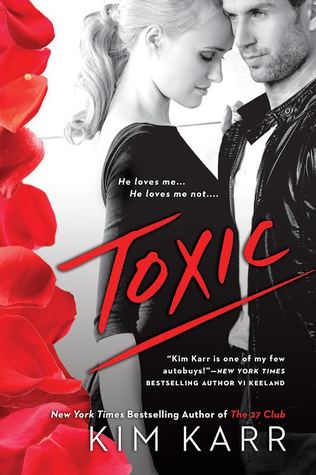 she unexpectedly runs into Jeremy again. Jeremy is the one man she can't forget and she measures all relationships against what they had one summer five years ago. Jeremy is back in New York as a successful businessman after staying away since that summer. He's never forgotten her or what they had.
A toxic mix of lies, misunderstandings, and miscommunication led to an abrupt end of their intense and all-consuming whirlwind of a relationship five years ago. Now with maturity and some much needed time to grow up, they have a second chance to get things right. Jeremy is willing to give them a second chance, but Phoebe is more hesitant to become entangled again.
"Who are you?"
He wore a cocky grin. "The guy that's going to sweep you off your feet." I bit my lip. "What if I don't want to be swept off my feet?"
He shrugged nonchalantly. "I can always toss you over my shoulder and carry you."
Phoebe comes up with a plan to save the hotel chain and goes to Jeremy for help. They work well together in the boardroom and it gives Jeremy time to win her over. Jeremy is a persistent, sexy, moody, charming bad boy who has turned into an irresistible man. They can't resist the sizzling chemistry between them for long and their connection grows deeper when they actually address the past. Their past, and the intervening five years, certainly play a role in how their current relationship unfolds and what new challenges they have to face.
He always made things seem so simple.
He always had.
"Us?"
"Yes, us. You and me."
I loved the sound of that.
Toxic is a one step forward two steps back, second chance romance where not everything is as it appears. Kim Karr absolutely draws you into this world and keeps you enthralled until the very last page. Ms. Karr created a world filled with drama, angst, and betrayal where motivations should be questioned. Phoebe's group of best friends and neighbor make up a fantastic and intriguing mix of secondary characters. I would love to see some of Phoebe's friends get their own books!
Fans of Colleen Hoover, Abbi Glines, Jasinda Wilder, Gail McHugh, and Jamie McGuire would love Toxic!
Book Info:

Publication: July 7th 2015 | NAL Trade |
He Loves Me, He Loves Me Not…
New York Times bestselling author Kim Karr turns up the heat in a smoking hot, emotionally compelling new novel that takes you into the world of Manhattan's elite.
In Toxic, Jeremy McQueen, a sexy, intense, sometimes brooding entrepreneur goes after what he wants—the woman he left behind years ago. Phoebe St. Claire, a put together, in control socialite-turned-CEO has been drifting through life searching for something she thought she'd never find again—the right man to share her future.
Our passion was boundless. Our lust untamed. And our desire endless. He was the only man who ever made me feel alive. Then, I betrayed him.
When he reappeared, I didn't question it. Trust rarely survives the wrecking ball, so when he let me in back in—I didn't hesitate.
Maybe I should have.
What began as a bid to save my family business, turned into a second chance at love. It felt so romantic. Working together, side by side, with the man I loved. My dream come true.
Nothing is as good as it seems.
We had our issues, but then again, every couple does. It wasn't jealousy, or our too-hot sex life that I should have been worried about.
It was his darkside.
I never saw the end coming, until it slammed me in the face. The question is—did he?
Was revenge his plan all along?
****
Sometimes you have to wonder if your life is too good to be true.
Is it real or just an illusion?
Does the man lying beside you really love you like he says he does?
If the answer is yes, you're meant to live happily ever after.
If the answer is no, you're living my life, and nothing will ever be the same.
What you do about it—that's up to you.
Me, I'm in too deep and there's no getting out.
I'll take whatever I can get for as long as I can because I know when it's over…
I'll never find another man like him.
Ever!