Ruin & Rule by Pepper Winters: Taken by an MC and with no memory, our heroine is left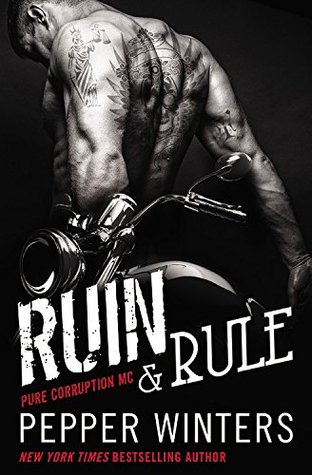 only to her wits and the knowledge that she knows the MC President, Kill. She doesn't know how or why, just that she does, even as Kill refuses to acknowledge that she could be the girl from his past.
Both broken and in dire circumstances, Kill and our heroine need to find and accept the truth about each other. With this first in Winters' new series, the focus is on their second chance and the vengeance Kill still needs to take as he keeps control of his MC.
"The pressure of the blindfold suddenly released, trading opaque darkness for a new kind of gloom.
Night sky. Moonshine. Stars above.
Anchors of a world I knew, but no recognition of the dark-shrouded industrial estate where the blood gleamed silver-black and corpses dotted the field.
I'm alive.
I can see.
The joy at having my eyes freed came and went as blazing as a comet.
Then my life ended as our gazes connected."
I don't even know how I feel about Ruin & Rule. I couldn't put it down because I needed to know the truth. What are all these secrets? What is their full past? What did Kill do? Etc. I found out some by the end, but it isn't an HEA. A sequel is coming out in January, and I am hoping very badly it ends there with all the answers. I need to know which just goes to show Winters did well in keeping me interested. Doesn't make me happy how, though.
That said, it's an extremely unhappy world to be in. Aside from the apparently well-deserved five girl human trafficking in the beginning, the MC is actually pretty decent, but they still did human trafficking. I still have a hero who has killed and plans to continue killing in vengeance. Plus, my hero treats women pretty badly, including the heroine when he doesn't believe her claims to know him.
It's not my usual story, but if you like rough and tumble MC romances give Ruin & Rule a try. I'm impatient so it was definitely difficult to see through the mind of an amnesiac who knows nothing, but even while unhappy with the characters and world at times, I couldn't put it down and I enjoyed the ride.

Book Info:

Publication: July 7, 2015 | Hachette Book Group | Pure Corruption MC #1
"We met in a nightmare. The in-between world where time had no power over reason. We fell in love. We fell hard. But then we woke up. And it was over . . ."
RUIN & RULE
She is a woman divided. Her past, present, and future are as twisted as the lies she's lived for the past eight years. Desperate to get the truth, she must turn to the one man who may also be her greatest enemy . . .
He is the president of Pure Corruption MC. A heartless biker and retribution-deliverer. He accepts no rules, obeys no one, and lives only to reap revenge on those who wronged him. And now he has stolen her, body and soul.
Can a woman plagued by mystery fall in love with the man who refuses to face the truth? And can a man drenched in darkness forgo his quest for vengeance-and finally find redemption?