Tracing a Kidnapper by Juno Rushdan finds the worst fear of single father Jackson Rhodes coming true; his young daughter is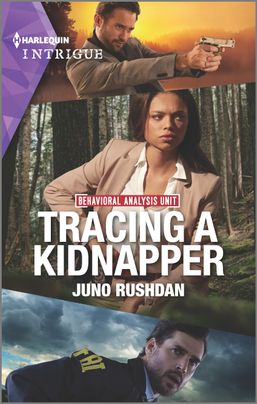 kidnapped during a family party his company is hosting. The FBI's Behavioral Analysis Unit is called in, and Special Agent Madeline Striker is leading the investigation. Having her own sister kidnapped and never found when she was eight, Madeline is determined to make sure that every child gets home safely so that the families can get the closure hers never did.
Both Madeline and Jackson butt heads at first, as they're both used to getting things done their way. They have to learn to work together and compromise to discover who is behind the kidnapping and why. They soon discover that nothing is what it seems, and the enemy may be close than they think.
The romance in the story falls flat. The author makes sure to point out that Madeline keeps herself emotionally separated from the families of the victims, yet Madeline is almost immediately drawn to Jackson. I wasn't sure what she saw right off the bat that made her feel so sympathetic towards him compared to other families she had helped. When they finally come together, it not only felt rushed, but it felt out of place. They're in the middle of trying to find Emma, yet they have time to sleep together. Jackson had been so focused on finding Emma that it didn't seem believable that he'd put it aside for one night. I felt very little chemistry between the pair, and found it to be a little distracting from the main focus of the story, which was the kidnapping investigation.
That being said, the mystery and suspense in this book was well done. I enjoyed the twists and turns, and it's never really clear why Emma was taken until the reveal. It's an action-packed journey from beginning to end. The only issue I had was one situation that Madeline followed Jackson into, knowing that it could potentially cause her to get fired. It was out of character for her, since up until that point she had been by-the-book. I had a hard time believing she would put herself into that position.
If you're looking for a good romance, this isn't it. If you're looking for an action-packed kidnapping story that will keep you guessing, then this would be a book for you. The mystery and suspense definitely overshadow the romance here, and while I was ok with that, I know there are some readers who might not be.
Book Info:

Publication: August 24, 2021 | Harlequin Intrigue | Behavioral Analysis Unit #3
FBI agent Madeline Striker's new case feels deeply personal. The kidnapped daughter of tech CEO Jackson Rhodes is the same age her sister was when she was abducted. The kidnap specialist's fierce determination to rescue Jackson's child forges a powerful bond between them, but they can't allow their intense attraction to divert their focus. Because a vindictive enemy is threatening the child's life.