Just Not That Into Billionaires by Annika Martin: Everything is just beginning to fall into place for ballet dancer Francine, after all of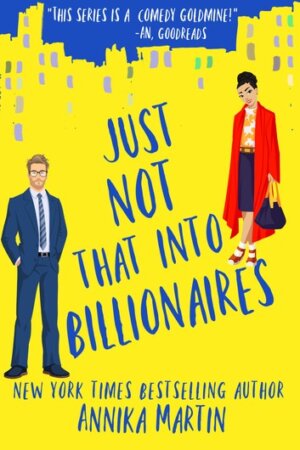 her hard work and long hours she finally has the much coveted soloist position finally in her grasp, and nothing is going to stop her now! So when Francine finds out that her visa has been denied due to her marital status, she is convinced that it must all be some big computer glitch.
If finding out that she has been married for the past ten years wasn't shocking enough Francine has her world rocked once again when she realise that she married non other than Benny, her old frenemie. Convinced that she can get Benny to give her a quickie divorce Francine is in for the shock of her life when she meets the new and improved Benny and all of his conditions.
Benny is no longer that same quirky sarcastic nerd that Francine remembers and that is in part thanks to that night that they shared ten years ago. As time has passed Benny has tried to put Francine behind him but now that she is right smack bang in his life and asking for a divorce, he can't help but want to keep her around even if that means having her play the role of his doting wife. Soon these two old frenemies find themselves dancing a fine line between sassy flirting and steamy glares, the question is will these two finally get it right the second time round?
Annika Martin has been killing it with the Billionaires of Manhattan series, and Just Not That Into Billionaires has to be my favorite book in this amazing series to date! I adore a cute second chance romance and that is exactly what we get with Benny and Francine, oh gosh did these two just worm their way into my heart while having me giggling at their silly antics!
Oh Benny boy! You sweet warm gooey cinnamon roll! I absolutely loved getting to the soft sweet centre of our grouchy grumpy hero. Gosh did these two play of each other in the most entertaining way, they truly were the perfect Ying and Yang couple! I absolutely loved their fake kids game and the bit where Francine played into the role of Benny's hidden chalet wife.
Francine was just great, I loved that she was such a ball of energy and had so much passion of ballet. I loved watching her push back at Benny each time he gave out one of his demands. These two had the perfect combination of angst, swoon and hilarious banter that made their relationship all that more amazing to follow.
I would highly recommend reading this super cute grump/sunshine second chance romance. Martin has done it again knocking out yet another brilliantly written warm gooey romance, there is absolutely no unnecessary drama but loads of laugh out loud moments! This is a definite must read!
Book Info:

Publication: August 10th 2021 | Annika Martin | Billionaires of Manhattan #6
Francine is stunned when she discovers she's been married – for the last ten years! – to Benny, the surly and nerdy frenemy she worked with one summer in Vegas.
How in the world did they end up married? They could hardly stand each other! Though there was that drunken night….
She tracks down Benny, sure he'll be as shocked about the marriage as she is, sure he'll be happy to dissolve their union ASAP so she can get the documents she desperately needs.
But Benny is now a cold and wolfish billionaire. And yes, he'll sign the paperwork…for a price: she has to spend the next three weeks playing his doting wife.