In True-Blue Cowboy by Sara Richardson, Everly Brooks has found what makes her happy–raising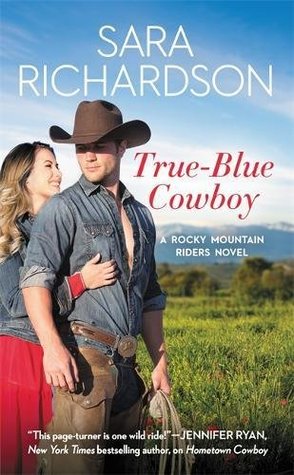 chickens, farming, and running a small farm-to-table restaurant on the farm's land. Her ultimate dream is buy the land from her landlord, only there's on problem–he just sold it to bronc rider Mateo Torres.
Mateo feels like he has to take care of his family back in Mexico, even though a couple of his sisters are adults with kids of their own and are capable of taking care of themselves. He purchases the land as an investment, hoping to open a resort so he could send them back even more money. However, his new land comes with a tenant–Everly–and she's determined to show him how much her farm and her restaurant mean to the people of Topaz Falls. The more time they spend together, the more they come to care about one another. But can Mateo give up his dream so Everly can keep hers?
Both Everly and Mateo are stubborn and refuse to back down from what they want. It was entertaining watching them as they fell for one another, yet still refused to give up on their fight for the land.
I loved the small-town atmosphere and how everyone shows up to support Everly. And any time anyone needed help, the residents of the town were quick to jump to their aid.
This is the fourth book in the series. I haven't read any of the previous books, so all the characters were new to me, and I'll admit that I felt like I was missing something. I think it's because there were so many secondary characters, many of which seemed like they're linked together, either through the rodeo or the town, and at times I felt like I was missing a little of backstory about those relationships. It wasn't enough to take away from the story though, so it works well as standalone if you're just jumping into the series like I did.
I would recommend this book to those who enjoy small-town romances with characters who aren't afraid to step up and fight for what they want.

Book Info:

Publication: July 31, 2018 | Forever | Rocky Mountain Riders #4
Everly Brooks is finally living her dream. Renting a farm in Topaz Falls, Colorado, is the perfect antidote to her high-stress life back in San Francisco. It's the ideal place to raise chickens, grow veggies, and run her farm-to-table restaurant. There's just one problem: her new landlord. Mateo Torres is a handsome-as-hell bronc rider who oozes charm, melts hearts-and plans to kick Everly off the farm . . .
Mateo has dreams, too. He'd bought that land as an investment, so he could take care of his mom and sisters, which means Everly has to go. Unfortunately for him, this former big-city girl is just as stubborn as the broncs he rides. When his trailer floods and forces him to move into Everly's farmhouse, things between them really start to heat up. Sure, living under the same roof might not be the best way to settle their dispute over the land. But when two rivals share everything-from heated words to scorching kisses-it's definitely the hottest.