In Truly by Ruthie Knox, May Fredericks is having the worst bad day ever, she just dumped her NFL star boyfriend after a horrible proposal on live TV. Then she gets mugged in her least favorite place in New York. She just hates NY, so she decides to take her metro card and her last $5 to get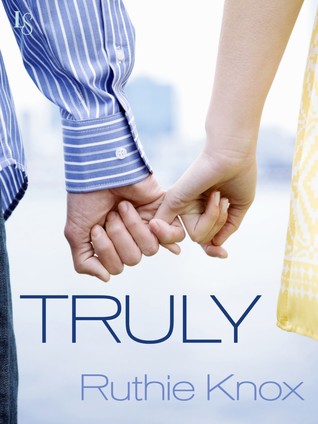 herself a drink at a bar, while contemplating returning home to Wisconsin.
Ben Hausman is at the bar where May arrived. He is handsome, grouchy and frustrated. But it is only reasonable considering that he is bitter from his divorce, and having career problems. Then conversation leads them to the most unlikely but perfect pairing.
While Ben tries to change her views of the city and help her get back to Wisconsin, he will be looking for a new place to live. It soon becomes an enlightening experience for them both, as they discover things within the city that that May was reluctant to admit to within herself as well. They become the support system the other needs while confronting what they consider their past failures and problems.
Things are awkward between them at first, especially their first time together. But then as their relationship flourishes and they forget about their inhibitions and insecurities, everything becomes more intense and mid blowing. Both their families are meddlesome and unbearable, but oh so very lovable, which makes this into a more interesting read.
Ben and May still have a ways to go, but like every real relationship, they will learn to adapt and not fall back onto old habits to make their love last.
If you want a sweet and fun read, don't miss Truly by Ruthie Knox.
Book Info:

Published September 2013 by Random House Loveswept
May Fredericks hates New York. Which is fair enough, since New York seems to hate her back. Just weeks after moving from Wisconsin to Manhattan, she receives the world's worst marriage proposal, stabs her boyfriend with a shrimp fork in a very public venue, and accidentally becomes notorious. And that's before she gets mugged.
At her wit's end, May washes up at a Packers bar in Greenwich Village, where she meets a surly, unhelpful guy who hates her shoes and calls her ex a douche.
His name is Ben. He used to be a chef. Now he's a rooftop beekeeper with anger management issues. She wouldn't even like him, but he reminds her of home … and he knows where to find all the best food in the Village.
She makes him laugh. He buys her tacos and cowboy boots. The longer they're stuck together, the better May and Ben get along … and the harder they fall. TRULY is a quirky, modern New York love story unlike any you've read before.